North East solar projects shine a light on net zero commitment
10 May 2023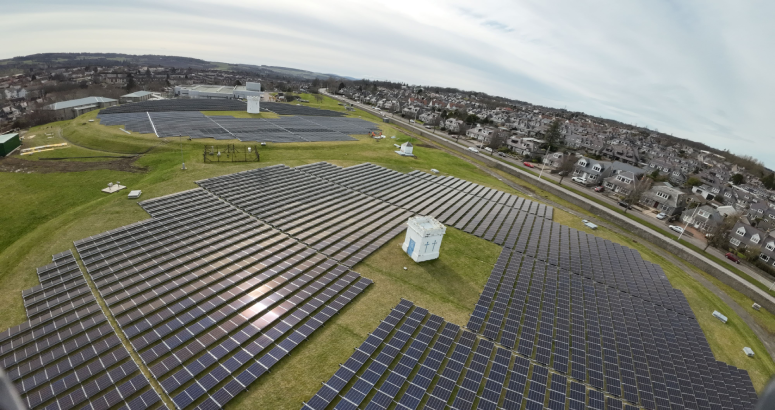 Mannofield Water Treatment Works in Aberdeen serves 250,000 customers
With the completion of the solar PV extension, the site hosts over 3,500 panels totalling £2m investment
"The installation of these schemes is great news for our customers and supports our drive to create more sustainable communities. By harnessing solar energy we can deliver vital water supplies with a lower carbon footprint, and maximise our wider contribution to a flourishing Scotland."

Eric Ross
Scottish Water Operations Team Leader
Following £1.9m investment, two solar schemes have been completed in the North East to support Scottish Water's drive to net zero emissions.
An existing solar scheme at Mannofield Water Treatment Works in Aberdeen has been extended with the installation of 2,690 solar photovoltaic (PV) panels – making it Scottish Water's largest renewables scheme in the region. The carbon-reducing technology will offset 12% of the electricity needed to operate the treatment works, which supplies high-quality drinking water to 250,000 customers in the area. The £1.7m extension led by Scottish Water Horizons, the public utility's commercial subsidiary, pushes investment at the site to £2m in total, significantly increasing energy generating capacity at Mannofield by 1.097GWh per annum – the same amount of energy needed to power almost 300 homes each year.
At Peterhead Waste Water Treatment Works a second solar extension has crossed the finish line, marking a further £205k investment. 276 roof-mounted PV panels are now helping to power the works which serve the surrounding area.
Both projects were delivered by renewables contractors FES Group, on behalf of Scottish Water Horizons, and will save over 300 CO2 equivalent tonnes of carbon each year.
Scottish Water Horizons Project Manager, Greig Adams, said: "The completion of our latest solar PV array at Mannofield is a significant milestone in our drive towards net zero. Not only is it our biggest renewables project in the North, it's also our second-largest solar scheme Scotland-wide.
"Operating a water treatment works on the scale of Mannofield, which serves hundreds of thousands of customers, is energy-intensive. By installing renewable technologies on our assets we can improve our energy resilience, and help Scottish Water drive down emissions."
Scottish Water Operations Team Leader, Eric Ross, said: "The installation of these schemes is great news for our customers and supports our drive to create more sustainable communities. By harnessing solar energy we can deliver vital water supplies with a lower carbon footprint, and maximise our wider contribution to a flourishing Scotland."
The sites at Mannofield and Peterhead join a long list of PV schemes already up and running at many Scottish Water assets across Scotland. To date, 21 MW of solar PV power has been installed at 62 sites, generating 17.2 GWh of renewable energy every year as Scottish Water strives to become a zero-carbon user of electricity.