Swimming should be prescribed to improve health says expert
09 May 2023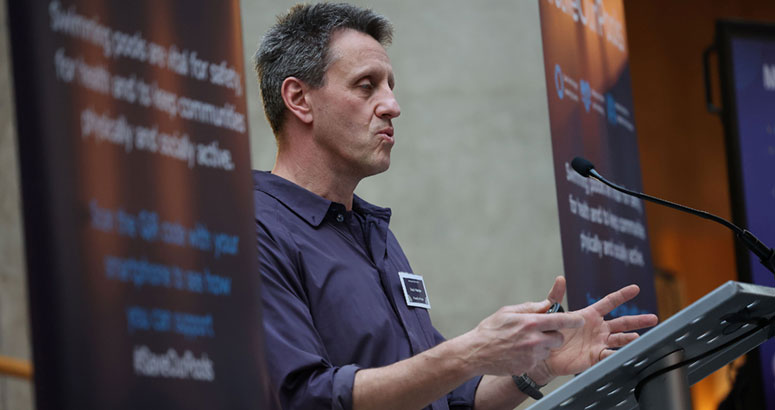 Dr Mark Harper
Dr Mark Harper spoke at the event hosted by Scottish Swimming
"Swimming, as a life skill and an exercise, can have hugely positive impacts on people's lives"

Dr Mark Harper
Consultant Anaesthetist
An expert in the medical benefits of swimming has told an influential group of MSPs how encouraging the population to take up the sport could transform Scotland's health.
Dr Mark Harper is renowned for his research in the area and was one of a series of guest speakers at an "Everyone Can Swim" event at the Scottish Parliament.
He told some of Scotland's key political figures how 15% of people in the UK are taking five or more medicines a day, in some cases to deal with the side effects of another medicine and how taking up swimming can act as a medicine in its own right.
Dr Harper, who swam competitively as a Masters swimmer, told the impassioned audience: "There is one medicine that everyone should use and its exercise. For a lot of people, swimming is one of the only things they can do.
"If someone is frail or has a loss of balance, swimming is really the only option. It improves heart and lung health while strengthening joints and lowers diabetes.
"Swimming, as a life skill and an exercise, can have hugely positive impacts on people's lives and it's important that people in Scotland are taught to swim from a young age."
The event was hosted by Scottish Swimming, which in partnership with Scottish Water delivers the Learn to Swim programme for children – a Framework that is creating Scotland's "Generation Swim", as a lasting legacy for the nation.
It has already helped more than 100,000 youngsters to be safer and more confident in the water and aims to reach a further 100,000 by 2025, helping them to unlock long lasting health benefits.
Across Scotland there are 37 National Learn to Swim Framework providers, working across 160 pools, with currently 76,500 children learning to swim each week.
Dr Harper, a Consultant Anaesthetist at Brighton and Sussex University Hospitals whose research has focused on cold-water swimming, told the Holyrood audience that one in three adults in England can't swim, yet 7.5 million take to the water outdoors every year. He cited swimming lessons as the only way to keep people safe in the water.
Euan Lowe, CEO of Scottish Swimming, said: "To have an expert of Dr Harper 's calibre reinforcing the huge benefits of swimming really helped the message cut through with the audience.
"All of us at Scottish Swimming share his mission to ensure awareness is raised about the major health advantages that swimming offers, along with the other benefits it can bring to so many lives."
Brian Lironi, Director of Corporate Affairs with Scottish Water said: "Our drive to create Generation Swim is about leaving Scotland with a long-lasting legacy.
"Teaching children how to be safer and more confident in the water is a first step to unlocking significant health and wellbeing dividends. It was brilliant to hear Dr Harper underline that so emphatically."
The 'Everyone Can Swim' event featured a range of high-profile advocates for the importance of swimming and its impact on safety, health and communities.
Speakers included popular triple Olympian Hannah Miley MBE; Alan Lynn, former national coach of Scottish Swimming and Head of Performance Development at British Swimming; and Fulton MacGregor MSP, who sponsored the reception.
Dr Harper is a consultant anaesthetist at Sussex University Hospitals in the UK and Kristiansand in Norway. He is a leading expert in the prevention of hypothermia in surgical patients and the therapeutic uses of cold-water adaptation and open-water swimming.
Learn to Swim is a National Framework committed to creating supportive and quality environments in which children can learn to swim regardless of their age, ability, or skill level. It aims to develop competent swimmers, as well as encouraging youngsters to adopt a healthy and fulfilling lifestyle with sport and fun at its heart.