Draining the rain in a changing climate
18 May 2023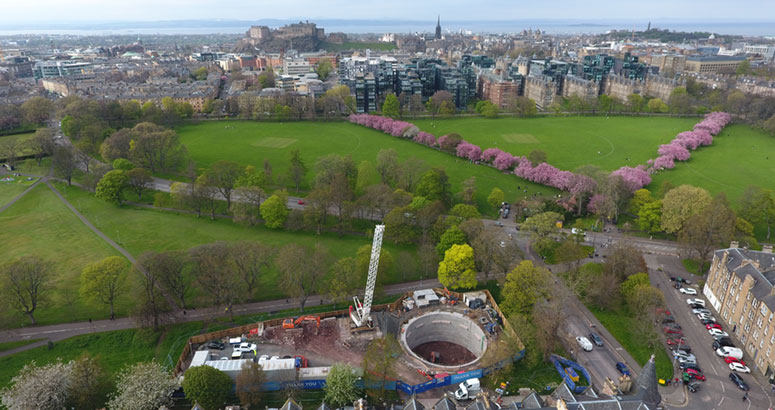 Marchmont, Edinburgh
Storm tank being constructed in the Bruntsfield Links, Edinburgh
"We have committed up to £500 million of further investment to deliver the most comprehensive programme of work ever undertaken"

Simon Parsons
Director of Strategic Customer and Service Planning, Scottish Water
Every day we treat over 1 billion litres of waste water from homes and businesses and return it safely to the environment.
Our drainage network also helps with rain water during heavy rainfall storms, to minimise the risk of flooding to properties. We do this in a variety of ways, such as installing large storm tanks (pictured here in the Bruntsfield Links, Edinburgh last week) or more commonly releasing pressure on the network from rain using overflows to rivers and the sea. When there are overflows from a rain storm, less than 1% of this is sewage from toilets.
Simon Parsons, Director of Strategic Customer and Service Planning, said:
"Scotland's rivers are in good health - 87% of waterbodies achieve good or better water quality and are amongst the best in Europe.
"We have invested £2.7 billion in improving and maintaining the country's public drainage system and infrastructure over the past decade to help achieve that status.
"Climate change is impacting rainfall patterns and intensity and growth in our villages, towns and cities often means the capacity of the largely Victorian-era system can be exceeded.
"It would cost an estimated £13 billion to rebuild the system to attempt to eliminate all overflows, without increasing the risk of flooding.
"We understand the concerns that are being expressed over spills from our drainage network.
"We have committed up to £500 million of further investment to deliver the most comprehensive programme of work ever undertaken – from the point that water leaves our homes, businesses, road surfaces and roofs, through sewers to treatment works where it is cleaned and return safely to the environment."
We will continue to work with our environmental regulator SEPA, Scottish Government, stakeholders and communities.