Multi Million Pound Upgrade at Stewarton WWTW Complete
21 June 2023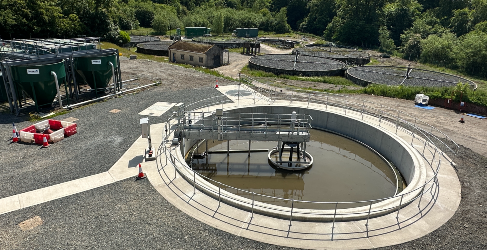 "Scottish Water is fully committed to providing reliable and environmentally responsible waste water management solutions, and supporting a flourishing Scotland."

Georgina Reid 
Corporate Affairs Manager - West 
A £4.7m investment project at the waste water treatment works (WWTW) serving Stewarton has been successfully completed.
The project saw a complete refurbishment of the existing works which is located at a strategic crossing point of the Annick Water, approximately six miles north of Kilmarnock.
Upgrades included the waste water treatment process being streamlined and enhanced, as well as some mechanical and electrical equipment at the site being upgraded or replaced.
Georgina Reid, corporate affairs manager in the west, said: "This recent investment is great news for Stewarton. Increased capacity for treating waste water and significant improvements to the treatment process means the newly upgraded WWTW is in a much better place to continue to meet the needs of the community and support future growth while protecting the environment. The river quality of the Annick Water will also benefit from this investment."
Georgina added: "Scottish Water is fully committed to providing reliable and environmentally responsible waste water management solutions, and supporting a flourishing Scotland."
Scottish Water's alliance partner ESD delivered the investment project which began in January 2021 and took around two years for completion.