Three Dee taps are affa fine
23 June 2023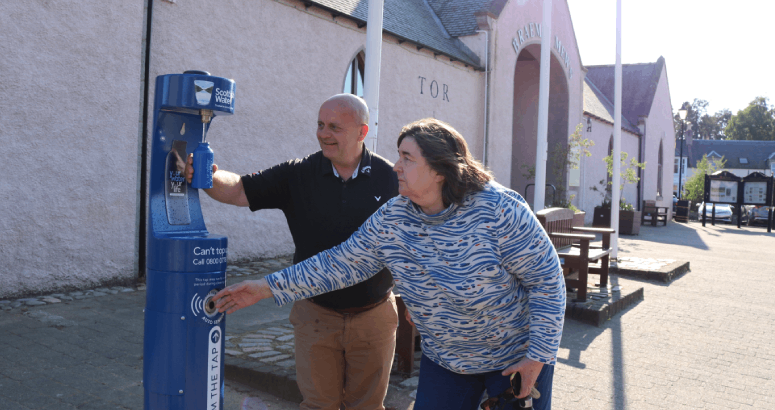 Deeside is now home to three new Top-Up Taps
Bring a bottle and top up from Aboyne, Banchory and Braemar (pictured)
"The River Dee is famous for the beautiful landscape that it has helped to shape, and for the vibrant communities along its banks. Given the vital role the river plays in providing local communities with clear, fresh drinking water, we're really pleased we've been able to work with local people to find such great locations for new Top up Taps."

Amy Methven
​Scottish Water's Top Up Tap Project Manager
A trio of new Scottish Water Top up Taps is ready to keep locals and visitors hydrated this summer after springing up along the banks of the River Dee.
New taps have been completed in recent weeks at the Bellfield (North) Car Park on Dee Street in Banchory; opposite the Victory Hall in Aboyne and outside Braemar Mews in Braemar. A fourth Deeside tap is also in the pipeline for Ballater, subject to planning permission.
Scottish Water has been installing bright blue Top Up Taps across the country, providing free drinking water to anyone with a refillable bottle. The three Deeside taps bring the total in Aberdeenshire to seven, joining those already in Stonehaven, Cruden Bay, Fraserburgh and Mintlaw – as well as two more in Aberdeen.
The high-tech taps digitally track how much water is dispensed from each location and feature a touch-free design.
Scottish Water's Top Up Tap Project Manager, Amy Methven, said:"The River Dee is famous for the beautiful landscape that it has helped to shape, and for the vibrant communities along its banks. Given the vital role the river plays in providing local communities with clear, fresh drinking water, we're really pleased we've been able to work with local people to find such great locations for new Top up Taps.
"By carrying a refillable water bottle, everyone can stay hydrated in a way that is good for your health, good for your pocket and great for the environment too.
"The average person in Scotland currently uses about 180 litres of tap water every day – but only a tiny fraction of it for drinking. Especially after the recent prolonged dry weather, we would ask everyone to help us protect the precious resource that the Dee provides by taking simple steps to save water, especially in the garden and the bathroom. That helps protect the environment and ensures that the area's world class drinking water can serve its most important purpose."
Councillor Geva Blackett has already seen Braemar's new Top up Tap being well used in the recent hot weather.
She said: "I think it's absolutely great, because we have a lot of visitors here. We have people from all over the world: families, walkers, cyclists, and in the winter skiers. Anyone who is taking exercise in our beautiful outdoors needs something to drink. Now they can go and help themselves at the taps with their own bottle, absolutely free of charge – and no waste."
Fellow ward Councillor, Sarah Brown, was an early advocate for the taps and has been involved in identification of suitable locations.
She said: "These Top up Taps are hugely welcome in Deeside. I've been in touch with Scottish Water over a number of months - and the way they've listened and responded to feedback from our communities has been great. In the busy summer months ahead, both locals and visitors will now have improved access to fresh drinking water when they're out and about."
Watch our short video featuring the new taps on the North team's Twitter channel.