Donation to help low income households stay hydrated this summer
05 July 2023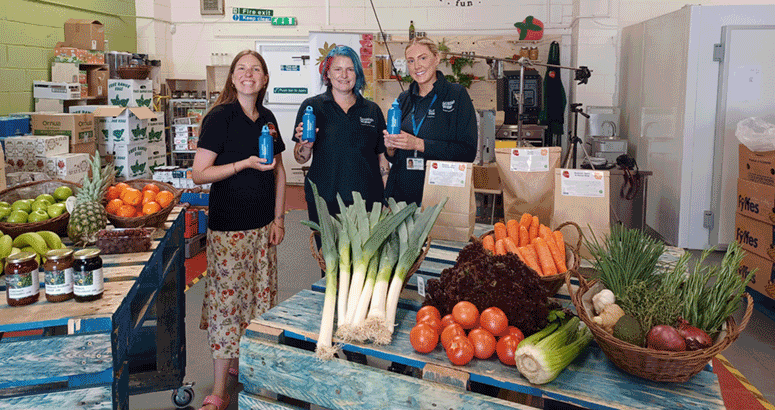 Scottish Water partners with Edinburgh Community Food
Scottish Water donated 500 water bottles to the Edinburgh Charity
"As well as eating well we know drinking enough water is vital for your health so to be able to give 500 families a free water bottle is great"

Jessica Pearson
Edinburgh Community Food
Low income households across Edinburgh will be helped to stay hydrated this summer and learn how topping up from the tap is good for health, your pocket and the planet.
Scottish Water has teamed up with the social enterprise and Edinburgh Community Food to encourage more people to drink plenty water whether at home or out and about.
The utility has donated 500 of its branded metal water bottles to the Capital-based charity which will distribute them via food boxes issued to families in need during the summer break.
Edinburgh Community Food aims to help people enjoy fresh food and works to ensure people in the capital have access to an affordable and healthy diet – it's mission is to 'to get people into healthy food and healthy food into people'. During school holidays they provide food and run food-related activities and cooking sessions for children and families who are entitled to additional support.
Jessica Pearson, Food and Health Development Officer at the charity said: "The boxes we provide to vulnerable families in need include fresh produce, long life goods, cooking equipment, and recipes for nutritious meals. As well as eating well we know drinking enough water is vital for your health so to be able to give 500 families a free water bottle is great.
"We are thrilled to be supporting these families to venture out for some family fun during the holidays with the water bottles and will be letting people know there are free refill taps across the city where they can top up on the go."
Scottish Water has installed nine refill taps in the Capital to date they are in Rutland Place, outside the Scottish Parliament, The Meadows, Portobello Promenade, Grassmarket, Leith Links, Royal Mile, South Queensferry and Silverknowes.
Scott Fraser, Communities Manager at Scottish Water, said: "Water plays a vital part in living a healthy life and we are delighted to support the important work Edinburgh Community Fund does to help children and their families.
"Our growing network of top up taps helps people get access to free and fresh water on the go at the touch of a button – and we encourage as many people as possible to use them.
"By carrying a refillable water bottle, everyone can stay hydrated in a way that is good for your health, good for your pocket and great for the environment too.
Since 2018 when Scottish Water launched its first top up tap outside the Scottish Parliament there has been a 19% increase in the number of people who say they carry a refillable bottle when on the move. There are almost 100 taps installed across Scotland to date.