Plans in the Pipeline to Drain the Rain in Borrowfield, Montrose
11 July 2023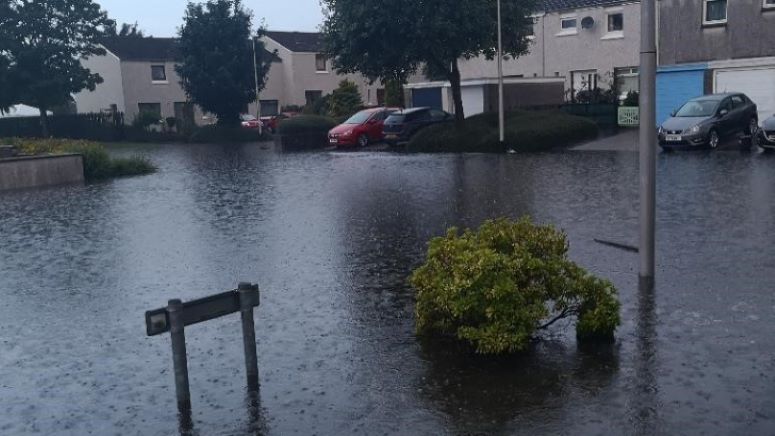 Investment to tackle flooding
Streets on both sides of Newhame Road have been affected by heavy flooding
"I welcome Scottish Water's approach in addressing the long-standing flooding issues in Borrowfield.

"The determination and input of local residents has been absolutely critical in getting matters to this stage. Alongside members of the local community, my constituency team and Cllr Bill Duff have been meeting regularly with local residents and Scottish Water to find a way forward and these proposals have been years in the making.

"I look forward to seeing how this large investment benefits residents in this part of Montrose."

Mairi Gougeon
MSP for Angus North and Mearns
Scottish Water has written to residents in the Borrowfield area of Montrose, outlining proposed investment to address flooding problems that affect the area during heavy rainfall.
Streets on both sides of Newhame Road have been affected by flooding, in some cases dating back over many decades to the original construction of homes in the area. With climate change already bringing more frequent intense rainstorms, the regularity and severity of flooding has been increasing.
Extensive surveys and investigations have confirmed that a large part of the flooding is caused by a lack of capacity in the local sewer network – and this led on to a search for options to remedy the problem.
A stakeholder group made up of affected residents, elected representatives, Angus Council officials and Scottish Water has met regularly to review progress, provide feedback and help shape the plans. The proposal that has been approved in principle by Scottish Water would see an underground tank capable of storing 3.5 million litres of stormwater – more than an Olympic-size swimming pool – constructed in part of Borrowfield Park, with associated upgrades to the sewer network in nearby streets.
Scottish Water's General Manager for Customer Service Kevin Roy has chaired the stakeholder group. He said: "I would like to acknowledge the commitment and perseverance of affected residents and community representatives who have stayed the course – and contributed important information, insight and challenge to our team.
"Flooding of this kind is one of the hardest issues that Scottish Water deals with. We know the impact it has on customers, both when they are actually affected and with the worry that each rainstorm brings. It takes significant time and very complex work to understand the cause and investigate solutions – and that has been particularly true in this case.
"We are positive that the significant investment that we are proposing will make a huge difference. There remains a lot of preparation needed to confirm key information before a final commitment decision can be taken and construction can begin – and this will include engagement with customers about how we can minimise the unavoidable disruption involved and leave a positive legacy in the area. We are engaging a team from our delivery partner, Caledonia Water Alliance (CWA), to take this work forward – and, with CWA, we will continue to keep the stakeholder group and the wider community updated."
Mairi Gougeon, MSP for Angus North and Mearns, said: "I welcome Scottish Water's approach in addressing the long-standing flooding issues in Borrowfield. "The determination and input of local residents has been absolutely critical in getting matters to this stage.
"Alongside members of the local community, my constituency team and Cllr Bill Duff have been meeting regularly with local residents and Scottish Water to find a way forward and these proposals have been years in the making.
"I look forward to seeing how this large investment benefits residents in this part of Montrose."
Some site investigation work is expected to take place over the year ahead to confirm ground conditions, the location of other underground services and develop more detailed designs. The main construction work remains dependent on the outcome of this activity and final approvals, but could be ready to begin in 2025.