Kelpies give 100th water tap legendary status
15 July 2023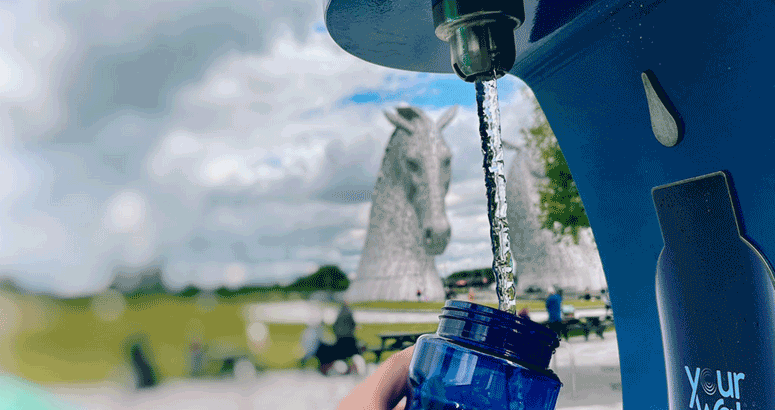 The 'Flow-er of Scotland'
Our 100th Top Up Tap is the first one to have been given an official name
"For us, the name 'Flow-er of Scotland' really stood out – it's an iconic piece of music and it's fitting for a landmark tap like this."

Arlene Stuart
Co-host of Planet Radio's Morning Show
Scotland's 100th Top Up Tap has been unveiled in the shadow of the landmark country's best-known water sprits the Kelpies.
Visitors to the award-winning Helix Park at Falkirk will now be able to stay hydrated on the go as they take in the giant mythical horse heads known as Duke and Baron.
Scottish Water's newest water tap is the first to officially be given a name - "The Flow-er of Scotland" was chosen as part of a competition for radio listeners run in partnership with Planet Radio.
They evoke the ancient Scottish legend of the water-dwelling colts and attract more than 750,000 visitors every year.
The attraction was named Scotland's Greatest Day Out at the recent VisitScotland Thistle Awards for tourism and has environmental sustainability at the heart of its operation.
The country-wide network of distinctive blue taps provides people with free drinking water from the Shetlands to Stranraer – and since their launch in 2018 have filled the equivalent of five million 330ml single-use plastic bottles, helping reduce litter and waste.
Scottish Water's Director of Corporate Affairs Brian Lironi said: "We're delighted to unveil Scotland's 100th tap at such an iconic location linked to one of the country's most evocative water legends, the Kelpies.
"Thousands of people will be able to enjoy this amazing site and stay topped up with Scottish tap water as they walk around these remarkable sculptures.
"Since the first tap was installed outside the Scottish Parliament five years ago, they have enabled people to use refillable bottles, reduce plastic consumption and waste and protect the environment."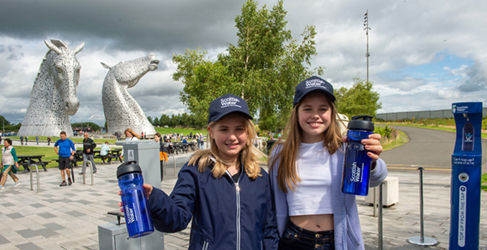 A couple of visitors top up at the tap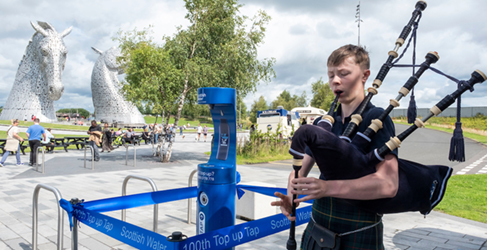 Bagpiper Noah helped launch the tap
Councillor Cecil Meiklejohn, Leader of Falkirk Council said: "Providing healthy and free drinking water at the Helix is a great initiative from Scottish Water and will certainly help with our commitment to reduce single use plastics and waste. Locating the 100th tap at the Helix is great recognition for this amazing visitor attraction and we're sure will be very welcomed by local residents and tourists alike."
Arlene Stuart, co-host of Planet Radio's Morning Show with Boogie said: "We had such fun with Scottish Water trying to come up with a name. So many people got in touch with their suggestions and hopefully we've encouraged more people to top up from the tap. We received more than 200 entries showing there was a real interest in being involved. For us, the name 'Flow-er of Scotland' really stood out – it's an iconic piece of music and it's fitting for a landmark tap like this."
The newest tap is now one of a network across Scotland located in High Streets and harbours and parks and promenades. More are being planned throughout the country.
The taps are connected to the public water supply, and each has digital tracking technology which logs how much water is being used and how much plastic potentially saved.
More information about our taps and our Your Water Your Life campaign: Your Water Your Life