E-Van Hits the Road in Net Zero Challenge
11 August 2023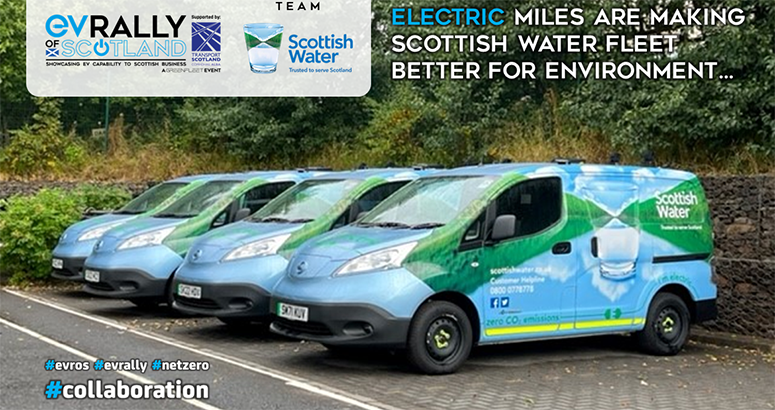 EV Rally
Stephen Rennie and Kenny Kentley will take part in the two day rally to celebrate organisations who are transitioning their fleets to fully electric vehicles
"Scottish Water is always striving be more sustainable, and we understand that our fleet vehicles have a huge role to play in becoming net zero. "

Holly McPhee
 Scottish Water Project Manager
Scottish Water is taking to the road to showcase its latest e-van and highlight the way it is transforming one of the best-known fleets in the country.
The EV Rally of Scotland will bring together a host of well-known organisations who are switching to electric vehicles.
The event which runs over August 16 and 17 will also highlight the expanded charging network which enables drivers and their vehicles to move around as they carry out their work.
All participating vehicles will travel more than 550 miles over the two days stopping in at some iconic locations to demonstrate their green fleet credentials.
The rally will start and finish in Glasgow but take in landmarks including the Kelpies – home to Scottish Water's 100th Top Up Tap – Ben Nevis and the V&A in Dundee.
It's the third time the event has taken place – following on from its success during COP26 in Glasgow and the Tri-Hub EV Challenge in 2022.
The Rally will consist of 10 teams from different organisations and each will participate using one of its EV fleet. Scottish Water will use a Peugeot ePartner – which has been advertised to have up to 171 miles of driving range – and will be driven by Stephen Rennie and Kenny Kentley.
Overall, Scottish Water has 36 e-vehicles on fleet and 132 on order – 70 of these are due to be delivered before the end of the financial year.
We have also ordered Scottish Water's first ever fully electric HGV which is set to be delivered in the coming years and is going to our waste tankering team based in Glasgow.
Holly McPhee, Scottish Water's EV Transition Project Manager, explained why it was important to take part.
She said: "Scottish Water is always striving be more sustainable, and we understand that our fleet vehicles have a huge role to play in becoming net zero. The rally provides a great opportunity for Scotland to show how it is leading the UK in embracing the very latest innovative technologies that will ultimately allow for a cleaner future".
Scottish Water will be joined by several other organisations, such as Transport Scotland, Arnold Clark, and Scottish Power.
Updates on the teams' progress throughout the Rally will be shared on the EVR and GF.net websites and via social media as they reach the daily checkpoints.