Scottish Water volunteers take retirement home residents to new heights
18 August 2023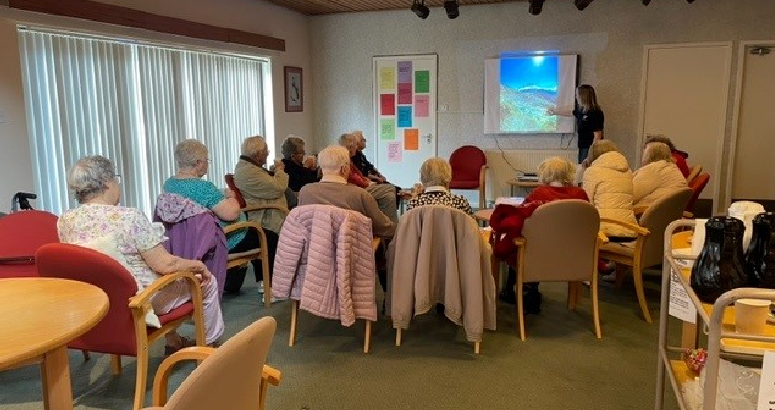 Scottish Water volunteers at Invergowrie Retirement Home
Lorna Kirkpatrick, Asset Planner for Scottish Water, presenting to residents about her trip to Everest
Volunteers from Scottish Water visited Invergowrie Retirement Home to engage with residents on local services, and entertain them with tales of international expeditions.

Lorna Kirkpatrick, an Asset Planner for Scottish Water who has a passion for adventure, regularly takes on Munros in her spare time. She jumped at the opportunity to recount tales of her 2023 trip to Everest Base Camp with the Invergowrie residents.

Lorna said: "Spending the month of April travelling to Nepal and trekking to Everest Base Camp was an incredible experience and I was delighted to be able to share this with the tenants.
"I could see the residents were intrigued by my adventure, smiling during the success story of reaching base camp, while they laughed and shared my pain, when I showed pictures of some of the accommodation and toilet facilities I had to use on my travels."

"The trip also reiterated how lucky we are in Scotland to have access to fresh, clear drinking water all year round. Of course, this is not always the case when travelling around the world and I hope I was able to convey this message to the residents."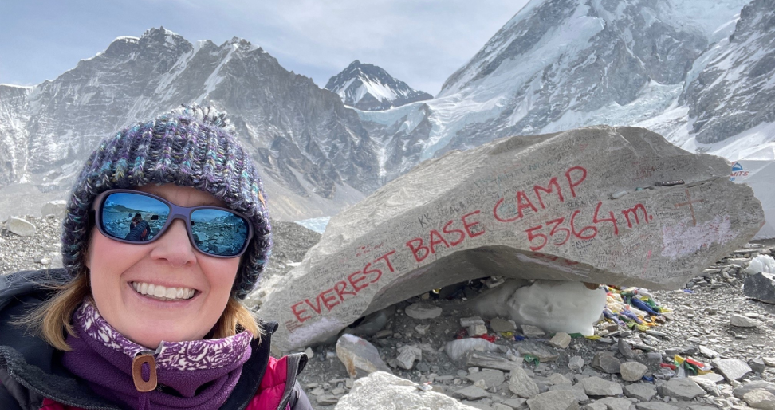 Lorna pictured at Everest Base Camp
Residents enjoyed hearing about Lorna's travels, including her trek to Everest Base Camp (5,364 metres above sea level)
"We would like to thank Scottish Water for making the effort to visit us. Both presentations and slide shows were wonderful. We shared the weather and wanted to breathe for Lorna, during the climb to base camp. While Nicola's talk about Scottish Water was extremely informative and interesting."

Maureen Carnegie
Housing Support Officer for Peter Arbuckle Place Retirement Housing
Just a few weeks before, Nicola Anderson, Scottish Water's Senior Business Analyst was a guest speaker at the home, showcasing how customers' water is supplied and how Scottish Water, which is publicly-owned, operates.

Nicola said: "At Scottish Water we have two days of volunteering time per year which can be used to benefit the local community.

"It was so valuable to use this time to present at Invergowrie Retirement Home and talk to residents about my job and Scottish Water as a whole. You could see how engaged everyone was during the session which covered the 3P's, Water is Always Worth Saving and Bogus Callers.

"Some of the ladies even told me they had been cleaners at the nearby Scottish Water office many years ago, so it was also lovely to hear their stories as well as telling my own."

Maureen Carnegie, Housing Support Officer for Peter Arbuckle Place Retirement Housing said: 'We regularly host guest speakers on a Wednesday morning and were delighted when Scottish Water offered not one but two volunteers to come and speak to us on separate occasions about entirely different and intriguing topics.

"We would like to thank Scottish Water for making the effort to visit us. Both presentations and slide shows were wonderful. We shared the weather and wanted to breathe for Lorna, during the climb to base camp. While Nicola's talk about Scottish Water was extremely informative and interesting.

"On behalf of myself and the tenants we thoroughly enjoyed hearing the exploits and both are welcome in the future to share any further knowledge and experiences."