MSP sees Skye water networks investment
22 August 2023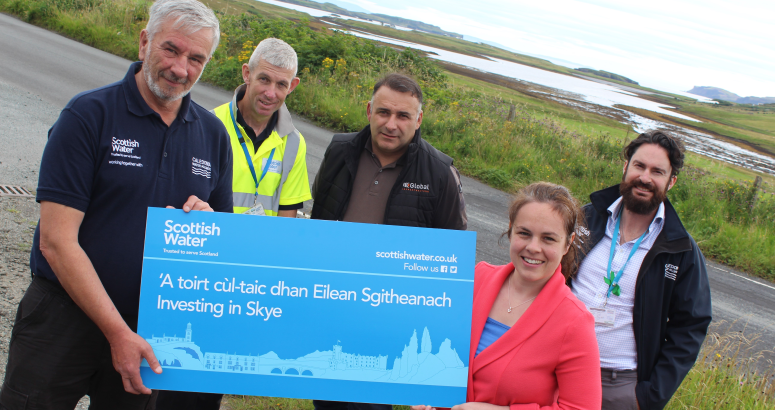 Investing in Skye
Renewal of ageing water networks will secure a more reliable service for decades to come
"Though we all would have liked to have seen the Roag mains replaced well before now, I am delighted that the work has now been delivered"

Kate Forbes MSP
Skye, Lochaber & Badenoch
Skye, Lochaber and Badenoch MSP Kate Forbes has visited the site of a £3.5 million investment to renew water mains that serve Dunvegan, Roag, Orbost and Roskhill in north-west Skye.
The project has seen around 13 kilometres of water main renewed, with the current phase of work now nearing completion. A further 2 kilometres of new water main is expected to follow next year to re-route and replace a pumped water main that currently crosses difficult terrain with challenging access near Osedale.
The work in Dunvegan is part of Scottish Water's rolling programme of water network renewal across the country. A second project to renew over 8 kilometres of water mains in Broadford and Breakish is on track to be completed before next summer, with a value of over £4 million.
Both projects are being delivered on Scottish Water's behalf by the public water company's delivery partner Caledonia Water Alliance, working with Highland-based contractor Global Infrastructure.
Kate Forbes MSP said: "The water pipe at Orbost has been an issue I've raised with Scottish Water now for a matter of years.
"Though we all would have liked to have seen the Roag mains replaced well before now, I am delighted that the work has now been delivered and thank everyone involved.
"I hope this multi-million-pound investment will benefit many homes in the north-west of Skye."
Scottish Water's Field Response Team Leader for Skye, Lochalsh and Lochaber James MacInnes said:
"We know that many of our water networks in Skye, and across Scotland, are ageing – and that presents a significant challenge with securing the level of service that we want to achieve for all of our customers on a sustainable basis.
"When bursts occur, our local team will always respond as quickly as we can to assist customers and restore supplies. However, we know we need to deliver sustained and long term investment to resolve the disruption that these incidents cause.
"We're grateful for the patience of our customers in Dunvegan, Roskhill, Roag and Orbost over recent years while the current work has been planned and delivered. With the further phase of work to follow, the area's water network will be able to deliver clear, fresh water to customers' taps on a reliable basis for decades to come."
CWA's Site Manager Alistair Purvis added:
"Our site team from Global is working hard to deliver the essential investment that is needed for the future of Skye communities with as little short-term disruption as possible.
"That approach will continue from the current phase of work that we are now completing in Dunvegan, to the ongoing work in Broadford - and beyond."
Scottish Water continually monitors the performance of local water networks in order to prioritise areas where bursts are having the greatest impact on service for customers. The current work in Skye reflects the public water company's continuing focus on increasing the rate of water main replacement, working on a sustainable basis with its local supply chain partners.