£3 million investment in green hydro energy generation at East Lothian reservoir
15 September 2023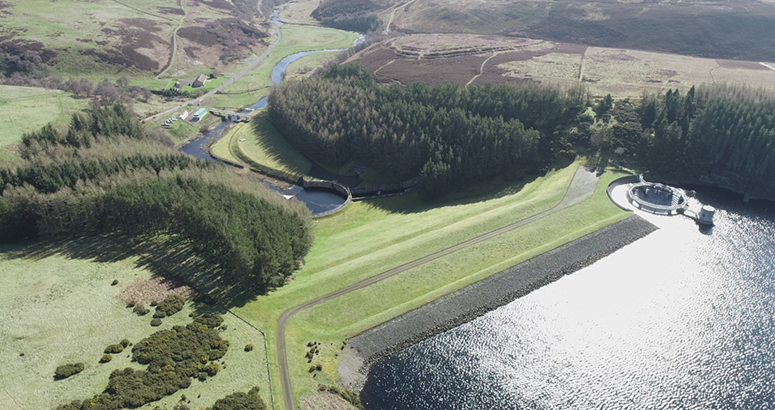 Whiteadder Reservoir
The hydro energy generation scheme is believed to be the first of its type in Europe.
Scottish Water has broken ground on a pioneering new type of hydro energy generation scheme at Whiteadder Reservoir, East Lothian as part of its work to reduce carbon emissions.
The hydro energy generation scheme is fed by a siphon and is believed to be the first of its type in Europe. The scheme will enable the company to generate green energy while accurately controlling the level of the reservoir during seasonal fluctuations in weather without the need for major civil-engineering works.
The £3 million investment by Scottish Water will enable the siphon technology to draw water up though the intake and over the top of the dam which then runs down through the siphon, through the hydro turbine, and back to the natural environment.
The electricity generated will be used to offset 30% of the power used by one of East Lothian's largest pumping stations, named Hungry Snout. This pumping station takes around 32 million litres of water per day to Castle Moffat Water Treatment Works, which supplies most of the East Lothian region.
Neil Beaumont, Hydro Energy Senior Project Manager at Scottish Water Horizons, the public utility's commercial subsidiary that is delivering the scheme, said: "This is a unique project to work on. Due to fluctuating seasonal conditions in Scotland, the flows at Whiteadder Reservoir vary from 150-1200 litres per second so it was important that we could measure and control the reservoir levels accurately as its primary function is to provide water to customers.
"In collaboration with renewable energy experts AECOM and Ossberger, we selected equipment that could accurately measure water levels even during adverse weather conditions using smart controls and sensors which will ensure we are not taking too much water from the reservoir.
"This is a real win for us and we are delighted to be leading with such innovative projects to lower the carbon footprint of the local water supply and make Scotland's grid greener."
The investment at Whiteadder will significantly reduce the carbon emissions from the pumping station, saving approximately 111 tonnes of carbon each year, the equivalent of a passenger jet flying from Edinburgh to Sydney, Australia 40 times.
It is expected to generate 0.82GWh of renewable energy per annum from the 199kW turbine.
Gordon Reid, Scottish Water General Manager Net Zero said: "Scottish Water owns the most reservoirs in the UK, and we are always looking for opportunities to produce renewable power and make the most of these assets.
"We already have over thirty hydro turbines installed on our assets, and the use of this novel technology is an exciting development for Scottish Water.
"As a business, we have made some bold and ambitious commitments to reduce our carbon emissions, and I believe this technology will help us deliver on those ambitions."
The hydro scheme is being delivered by renewable energy specialist Emtec Energy.
Scottish Water has committed to meeting net zero total emissions by 2040 and net zero operational emissions by 2030.