Top-Up Taps Take Off in Dumfries and Galloway
19 September 2023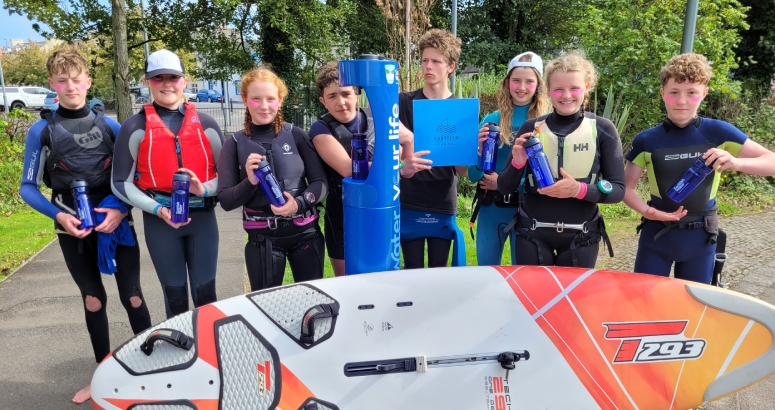 Scottish Windsurfing Group Fin and Foil
At our Top-Up Tap in Agnew Park
"We endeavoured to make our event as sustainable as possible
and the support and recycled bottles from Scottish Water were brilliant and
encouraged most competitors and families to use the Top Up Tap in Agnew Park to
save on unnecessary plastics."

Danny Hawthon
Chair of the Scottish Fin and Foil Association
Scottish Water's network of Top-Up Taps in Dumfries and Galloway is growing with three new taps coming soon to provide free, world-class drinking water to local communities.
Scottish windsurfing group Fin and Foil celebrated the most recently installed top up tap in Agnew Park, Stranraer when they hosted their Open Championship on Loch Ryan.
Over 100 competitors from all corners of the UK, received a Scottish Water branded re-usable water bottle and the Youth Windsurfing Team took a break from competition to try out the new tap. Over the 5-day event the tap provided 495 litres of water, equivalent to 1500 330ml bottles. This brings the total amount of water dispensed to 11 thousand litres since its installation.
"The Scottish Fin and Foil Open championships at Stranraer were a fantastic collaboration between our organisation and Stranraer Water Sports Association but couldn't have happened without the support of the local Stranraer community."
"We endeavoured to make our event as sustainable as possible and the support and recycled bottles from Scottish Water were brilliant and encouraged most competitors and families to use the Top Up Tap in Agnew Park to save on unnecessary plastics."
"Since August I've been at a few more windsurfing events all over Scotland and it's great to see sailors still using their bottles regularly! Our ethos as windsports enthusiasts sits well with Scottish Waters drive to keep our oceans and waters safe and plastic free!"
Youth Windsurfing Team with their Scottish Water bottles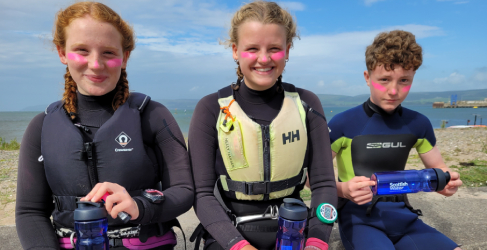 Fin and Foil Open Championships on Loch Ryan
The next iconic blue tap to be installed will be at Portpatrick's harbour, with planning applications submitted for taps in Moffatt town centre and in Langholm's Kiln Green carpark.
The new sites have been carefully chosen to provide refill opportunities for walkers, shoppers, workers, commuters, and visitors.
With these additions, Dumfries and Galloway will have 8 taps in total – including Queensberry Square and Mabie Forest in Dumfries, Church Square in Kirkcudbright, High Street in Gatehouse of Fleet and Agnew Park in Stranraer.
Scott Fraser, Scottish Water's Regional Community Manager said;
"It's fantastic to have three more of our Top up Taps coming to Dumfries and Galloway and that we can support local events. We're encouraging everyone to make the most of them when they are out and about – remember to take a reusable water bottle to easily top up on the go."
"Drinking water from a refillable bottle is good for your health, good for the planet by helping reduce the volume of single-use plastic and it's good for your pocket too."
The publicly-owned water company is committed to delivering a flourishing Scotland and its blue Top-Up Taps are a flagship project, recognisable as landmarks in towns and cities with their distinctive branding.
With 76% of Scots carrying a refillable water bottle while they're out and about, the taps are in demand and help people reduce their use of single-use plastic bottles. So far, Scottish Water's Top-Up Taps have dispensed the volume of more than 5 million bottles of tap water. To find your nearest Top-up Tap visit www.yourwateryourlife.co.uk/find-my-nearest-tap