Scottish Water Teams Out in Force to Protect Customers
09 October 2023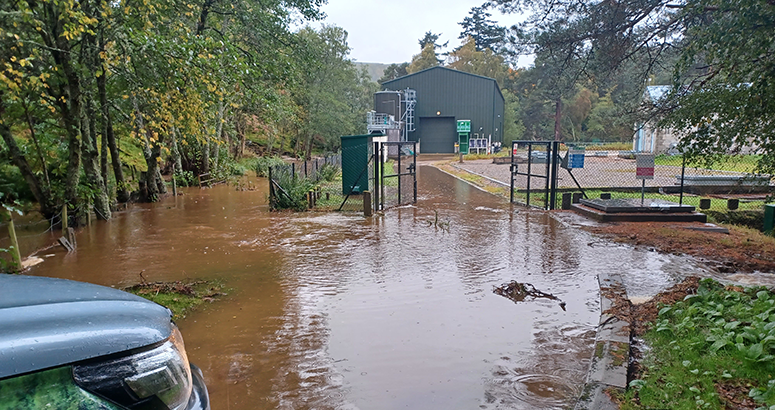 Deluge
Severe flooding in Ballater was just one of the locations impacted by the extreme rainfall at the weekend
"Our priority was to ensure the safety of ours teams, protect our assets and services to customers, minimising any impact where there was disruption."

John Griffen, General Manager
Customer Water Services, Scottish Water
Scottish Water teams protected vital infrastructure during the weekend as a month's rainfall deluged large parts of the country.
Flooding which impacts water and waste water treatment sites can have a direct impact on households and businesses. Increased amounts of sediment in raw water sources place treatment processes under pressure to maintain quality at customers' taps.
Over the weekend the priority was to protect assets and infrastructure to minimise any risk to supplies and the environment.
Although some sites did experience flooding, services were maintained for most people and Scottish Water provided updates to multi-agency briefings.
In Benmore, Dunoon, a pipe bridge carrying a water main was washed away by flood water and an urgent repair is being planned.
In Coatbridge, concern for an elderly resident living on land owned by Scottish Water adjacent to a disused treatment works due to rising flood water levels, led to them being taken to safety by fire and rescue service personnel, and provided with alternative accommodation.
Around 850 customer cases were created at the weekend – 70% of which related to sewer chokes
Teams dealt with 35 instances of internal flooding
Reservoir and dam checks were carried out in areas of potential risk
John Griffen, Customer Water Services general manager, said: "Our priority was to ensure the safety of our teams, protect our assets and services to customers, minimising any impact where there was disruption. We worked closely with our multi-agency partners and colleagues in our own delivery chain.
"Severe and sustained rainfall can impact at every stage of the water cycle, from increased amounts of sediment in our sources right into our treatment processes and our assets on both the water and waste water treatment infrastructure.
"A severe weather team was formed on Friday and was in place throughout the weekend taking a proactive approach to reducing risk to people, property, public health, and the environment."