Scottish Water Top Up Tap set to make a splash in Anstruther
Residents and visitors in Anstruther can now enjoy fresh, free drinking water on the go thanks to a new Top Up Tap installed by Scottish Water.

The blue tap, located near the harbour on Shore Street, is the perfect location to enjoy the fresh sea breeze and picturesque views while refilling a reusable bottle.

The tap provides high-quality drinking water, free of charge and is part of Scottish Waters commitment to help reduce plastic waste. Since their launch in 2018, the Top Up Taps have filled the equivalent of five million 330ml single-use plastic bottles.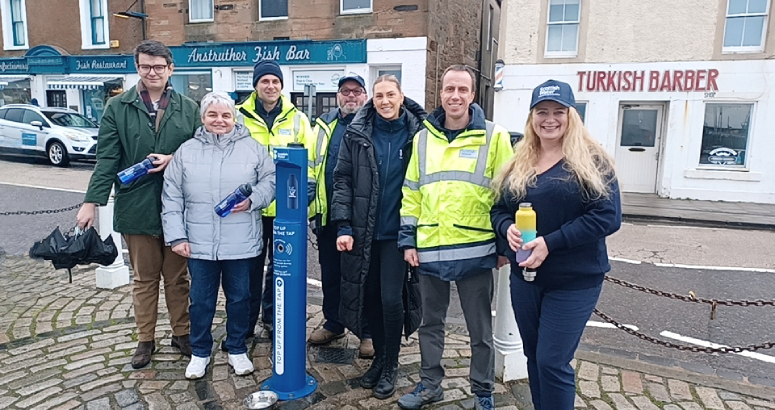 Anstruther Top Up Tap
Local Councillors joined us to celebrate it's launch
Scottish Water's Corporate Affairs Manager Scott Fraser said; "Scottish Water hit a major milestone in the summer with the installation of our 100th top up tap and we are delighted to have another one installed in this beautiful coastal town.
"We hope that locals and tourists alike will make use of this tap and help us protect the environment by choosing to carry a re-fillable water bottle. Our Top Up Taps are not only convenient and cost-effective, but also promote the health benefits of staying hydrated."
With five Top Up Taps now installed at a variety of locations across Fife, the taps are helping to reduce plastic waste. The taps are fitted with smart technology that monitors usage and sends alerts if any issues are detected.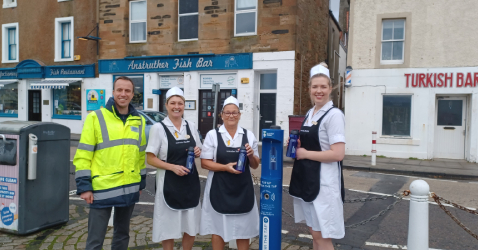 The tap is located near the harbour opposite to Anstruther Fish Bar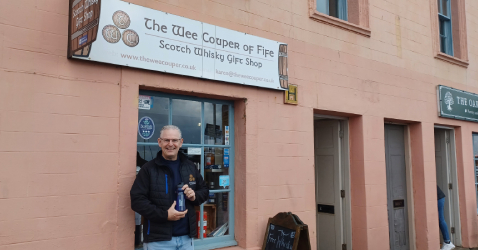 Tom from The Wee Couper of Fife picked up his Scottish Water re-fillable bottle
Local Councillor Alycia Hayes recently helped mark its launch and said;
"There are more reasons than you might think why a Top up Tap is a good thing to have in Anstruther. Not only does it help the environment, by reducing plastic waste, it should contribute to a reduction in litter, too, which is a real concern for us here.
Councillor Sean Dillon is delighted with the towns new addition, he said;
"The new Top Up Tap is a great addition to Anstruther Harbour. I am certain that it will be well used by both residents and tourists alike and I look forward to further taps being installed in the East Neuk."
Scottish Water's Your Water Your Life campaign encourages people to carry a refillable water bottle and drink tap water on the go to benefit their health, save money and protect the planet. Find out more about the campaign and where to find your nearest Top Up Tap at www.yourwateryourlife.co.uk