Water Research & Test Facilities
Innovation is vital to meeting the challenges faced by the water industry both now and in the future.
Companies and research institutions have a pivotal role to play in developing new and innovative processes and technologies to inform and shape the future of the water sector.
Our Development Centres offer users a unique opportunity to meet these challenges head on. By facilitating access to pilot-scale testing sites, users can test and develop prototype products, processes and technologies on an industrial scale.
As the only facilities of their kind in Scotland, trials can be carried out under live conditions to support testing and problem-solving on a range of water-related applications.
We also recognise the successful collaboration between academia and industrial organisations is the key to a sustainable future.
We're engaging with a number of companies and research institutions to foster a culture of knowledge sharing and co-working, with the aim of delivering industry relevant solutions.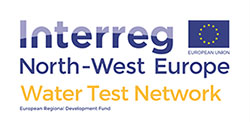 Scottish Water is also playing a leading role in a new North West Europe Water Test Network which will see experts at sites across the UK, Belgium, Germany, France and the Netherlands working in collaboration with businesses to develop and introduce new products to market more quickly.
The €6.02 million Water Test Network project is 60% funded by the European Regional Development Fund (€3.61 million) under their Interreg programme of work. It will establish a transnational network of testing facilities which can provide fully-funded support to small-medium businesses in North West Europe to develop, test and verify new products for the water sector. In this way, we can accelerate the introduction of new innovations to market.
As well as being the lead partner in this project, our Development Centres in Bo'ness and Gorthleck are two of the facilities which form the transnational network.
For details on some of the projects that are being carried out see the Document Hub.