West Linton local retires after 45 years at Scottish Water
28 September 2022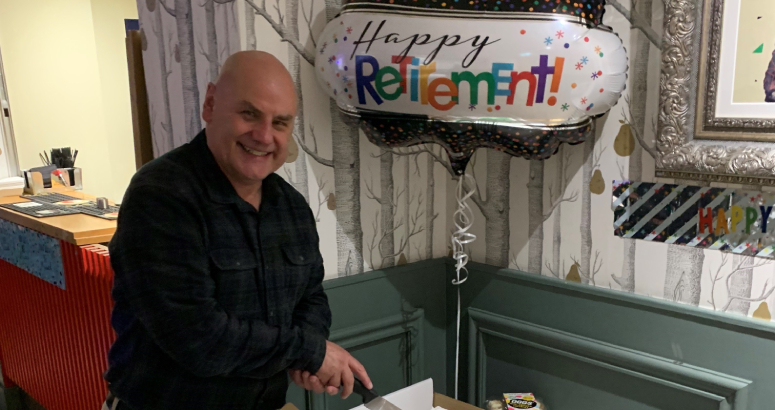 Tom Davidson
Tom retires after 45 years of dedicated service
West Linton local, Tom Davidson is hanging up his hi-vis for the last time this week after more than 45 years with Scottish Water.
Tom, 64, joined the water industry in Scotland in 1977 and is now a Senior Programme Manager.
Tom started his career at Lothian Regional Council the same year that Star Wars came out in the cinema. Reflecting on what now feels like a long time ago in a galaxy far, far away Tom explained why he chose to work in the industry, he said; "There are two reasons really. Firstly, my dad used to say I'd make more money with my jacket on working in the office than my jacket off working out on site, which appealed. Then, when I was 18, I went to a careers advisor. I arrived half an hour early and ended up reading a leaflet about the water industry highlighting the mix of practical and office based work."
Tom joined Lothian Regional Council at 19 working as a technician, tracing and printing drawings that the engineers would produce.
Tom soon learned how to take levels for new pipelines and vowed to become and engineer himself. To do this he needed a degree, so he enrolled at the University of Strathclyde in Glasgow where he graduated with an Honours Degree in 1982.
Describing the challenge in getting a new job after completing his degree Tom said; "I graduated during the peak of the 80's recession and had a new family. Very few companies in the central belt were hiring, so I moved north to work for Grampian Regional Council's Water and Drainage Department. Everything back then was done manually. I used to walk miles along the route of new pipelines, taking a level every 50 metres. I was pretty fit back then and a couple of stones lighter!"
Over the next five years, Tom worked across the Aberdeenshire area, achieving his Institution of Civil Engineers Chartership. He moved back to the Scottish Borders in 1987 where he stayed, working for the Borders Regional Council which would become East of Scotland Water and later Scottish Water.
Over the years, Tom has worked in a variety of roles, when asked about the change in technology during his career he said; "It's funny that during my time in the water industry, I've gone from working in offices with no computers and just a few landlines, to now being personally responsible for the financial governance on huge digitally focused projects and programmes"
Tom's ability to adapt to these changes comes from his desire to learn from others, something which he has been keen to instil in others, he said; "I have always prided myself in being supportive to those that work for me. I am incredibly proud to see former members of my team, being promoted right up to the very top of the organisation."
Rob Mustard, Director of Digital and Transformation at Scottish Water is one of those people that Tom helped train when he was early on in his career. He said; "I worked with Tom in the late nineties. At the time he was refereeing football matches at the weekend. He used those skills to teach me how to work with contractors, in a fair and balanced way giving me a great foundation to enable me to progress. He should be rightly proud of his achievements throughout his career and he is the absolute epitome of what is like to be in the Scottish Water family."
Tom is a family man and his enthusiasm for the business has rubbed off on his son Paul who works for Scottish Water and his daughter Michelle who met her husband when she used to work for the organisation. He said; "Scottish Water is a huge part of my professional and private life. I've loved every minute working here and if either of my younger daughters who are at university expressed an interest in working for the company, I wouldn't hesitate to encourage them."
Tom plans to spend his retirement to continue supporting young people in the performing arts industry and going to even more musical theatre shows with his partner Angela, his three daughters, son and four grandchildren.