Scotland's largest waste water treatment works opens its doors to the public
04 October 2022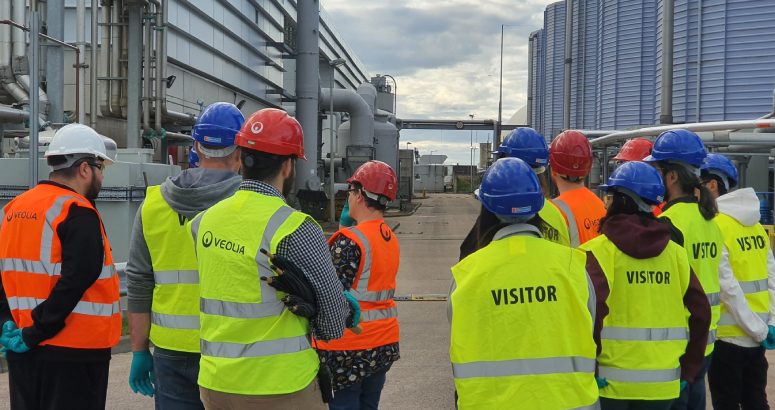 Seafield Waste Water Treatment Works
Public invited into the treatment works in Leith as part of this years Doors Open Days
Seafield Waste Water Treatment Works in Leith has opened its doors to the public as part of this year's Doors Open Days.
Veolia, the site operator, and Scottish Water welcomed just over 80 guests to the sold out tour of the facility which treats all of Edinburgh's waste water.
Guests were taken through the process from beginning to end and were able to ask questions about how it worked.
Before starting the tour, staff at the site highlighted Scottish Water's latest campaign, Nature Calls, which asks customers to support a total ban on wet wipes containing plastic. Around 90% of all wipes contain plastic and they are responsible for the vast majority of the 36,000 sewer blockages the utility responds to each year.
The tour started at a line of skips which were full of items that should not be flushed down the toilet. Condoms, tampons and thousands of wet wipes were clearly visible in every skip. Each skip can take four tonnes of this waste and, on average, one is sent to landfill every day.
Sam from Leith was stunned by the amount of waste and noted his one take away from the tour would be "to not put in wet wipes, tampons or condoms down the toilet."
Following this, staff took the visitors through the treatment process, where they were able to see how natural processes help to treat the wastewater.
Laure from Craigmillar said she was surprised by how natural the process was; "We expected a lot of chemicals to be used especially in the first part of the process" with her partner adding "it's much less smelly than I thought it would be."
Seafield treats the equivalent of 850,000 peoples waste everyday and uses that waste to produce power using a complex system of biodigesters and Combined Heat and Power engines.
The works is able to produce over 100% of its power needs, meaning not only is it self-sufficient but it is also able to push energy back into the national grid.
After this energy has been harvested, a nutrient-rich bioresource is created through a pasteurisation process can be used as a sustainable alternative or in addition to other fertilisers in agriculture at a significantly reduced cost to traditional chemical fertilisers.
Tristen from Craigmillar said he never knew that the site could do this; "Transforming sludge into fertiliser. I wasn't aware we were actively doing this – I knew it was possible, but I was surprised It was happening."
At the end of the tour, tour goers were asked to fill out feedback forms on what they thought of it. The response to the tours was overwhelmingly positive, with one attendee writing; "The tour and information was incredible… I am more knowledgeable and will never forget this."
Another described the tour as; "fascinating, informative and fun."
Tracy Byford, Contract and Stakeholder Manager at Veolia and tour leader said; "I am delighted that we have been able to run tours again this year. I always enjoy sharing the great work we do here and seeing the overwhelmingly positive reaction to the site."
Adam Warner, Corporate Affairs at Scottish Water Seafield said; "Being involved in events like this is one of my favourite things to do. Seafield has previously been cast in quite a negative light, so being able to demonstrate directly to customers how much the site has improved and the fantastic work which is done here is brilliant."
Seafield Waste Water Treatment Works is the largest works in Scotland.
Doors Open Days is Scotland's largest free festival that celebrates heritage and the built environment. It offers free access to over a thousand venues across the country throughout September. The aim of Doors Open Days is to ensure that Scotland's built heritage, new and old, is made accessible to people living and visiting the country on weekends in September.