WDC Scottish Dolphin Centre backs campaign to bin wet wipes
12 October 2022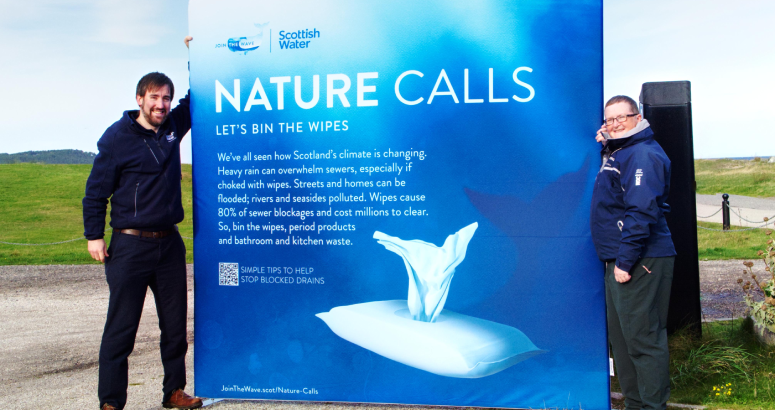 Bin the Wipes
L-R Scottish Water's Gavin Steel and SDC officer Cath Bain pictured at Spey Bay.
Whale and Dolphin Conservation's (WDC) visitor centre in Moray is backing Scottish Water's Nature Calls campaign, which urges people to bin all wet wipes and help protect the environment.

The WDC Scottish Dolphin Centre, based at the mouth of the River Spey near Fochabers, is supporting the campaign which aims to cut the number of wipes being flushed down the toilet. Most wet wipes contain plastic and don't break down once in the sewer network. They can cause pipes to block up and spill, with microplastics from the wipes ending up in the marine environment.

Scottish Dolphin Centre officer Cath Bain said:

"The area surrounding the Centre is a haven for wildlife including bottlenose dolphins, ospreys, grey and common seals, the occasional otter and many coastal birds so anything that we can do to help protect that environment is to be welcomed.

"We can see the impact of wet wipes on our beaches right across Scotland and so the message that Scottish Water is promoting about binning these rather than flushing them down the toilet is hugely important to keep our seas and oceans clean."

Marine Conservation Society statistics show that during the Great British Beach Clean 2021 volunteers found an average of 25 wet wipes per 100m of beach surveyed in Scotland.

Through the Nature Calls campaign, Scottish Water is asking the public to join forces to avoid sewer blockages (chokes), flooding, and pollution by consigning wipes to the bin.

Gavin Steel, Scottish Water's corporate affairs manager for the north, said:

"We are very pleased to have the WDC Scottish Dolphin Centre supporting our Nature Calls campaign. The brilliant work they do to protect the marine environment aligns closely with the central messages of the campaign.

"Across Scotland, we have around 36,000 sewer blockages a year, costing our customers £7 million and risking unpleasant consequences in homes and communities. Around 80% of blockages are caused by the wrong things – mainly wet wipes – being flushed down toilets and drains. Binning wipes is such a simple action that we can all take, but it can have a big impact. We're also going further by campaigning for a ban on wet wipes that contain plastic."

Find out more about the Nature Calls campaign.