Marchmont Crescent Closure as project enters next phase
31 October 2022
A project to improve the wastewater network in Marchmont, Edinburgh and help reduce the risk of sewer flooding at times of heavy rainfall has reached an important phase as excavation work to install new, larger sewer pipes along Marchmont Crescent is due to start.
The work, which is being carried out by Scottish Water's delivery partner Caledonian Water Alliance (CWA), is due to start next week, November 7th and is expected to take around seven months to complete.
Local road closures and parking restrictions will be needed during this time. There will be diversions in place and the local bus service will be impacted. These will be clearly signed throughout the works and local residents will be notified.
In order to minimise disruption, the work will be carried out in short sections which are expected to take around 6-7 weeks to complete.
Scott Fraser, Corporate Affairs Regional Manager at Scottish Water, said: "We are pleased to see this project move into this major phase where we will be installing larger sewer pipes right along Marchmont Crescent. We recognise that this will be the most disruptive part of the works and would like to thank our customers in advance for their understanding while we carry out this important investment.
Paul Milligan, Communications Manager for CWA, added "We have liaised closely with the community and local stakeholders from an early stage in this project and will continue to do so as the work progresses."
Over the coming months, the fencing around the site will be transformed to include information about the work and how it will benefit the local area.
Scott Fraser commented: "because this project is in such a central place, we wanted to do something a bit different and eye-catching with the fencing around the site. By putting more work into the design, passers-by will have the opportunity to learn more about the project without needing to seek out the information elsewhere.
We are excited to see the finished product and we hope the community will like it too."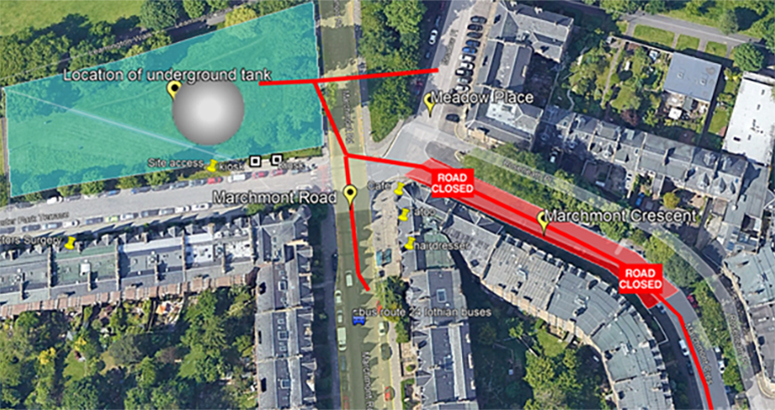 Marchmont Crescent Closure
The closure is shown in red. The work will be done in short sections to minimise disruption