BLOG: Scottish Careers Week 2022 - Andrew Montgomery
08 November 2022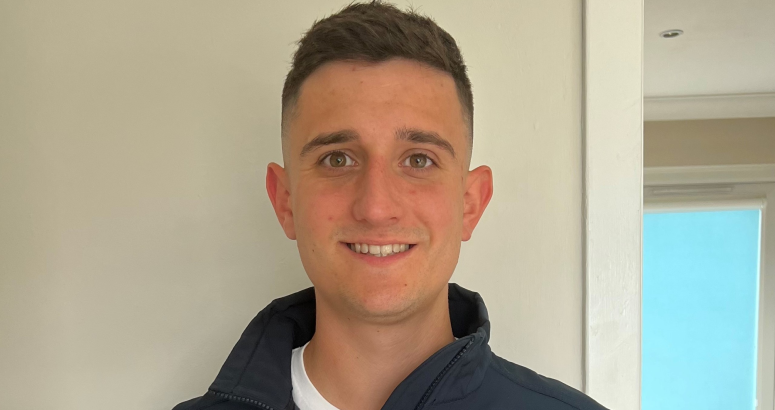 Specialist Graduate
Hear from Andrew Montgomery about his experience joining our graduate scheme.
"If you don't achieve the school results you were hoping for, remember there are other ways of getting there in the end – it's not a determining factor on your future."

Andrew Montgomery
Specialist Graduate, Scottish Water
Hi, my name is Andrew Montgomery and I'm a Specialist Graduate in the Portfolio Management Office (PMO) Risk Team. I started working at Scottish Water in September 2021 after graduating from university.

I only decided I wanted to work in Risk Management about 3 years ago. I was about to graduate from college and didn't know which area of business to go into. My college mentor arranged for me to speak with two people who had studied Risk Management at Glasgow Caledonian University. I thought the course sounded interesting and the job prospects were very appealing, so I decided to apply. I was surprised to learn that it was the only undergraduate Risk Management course in Scotland.
What subjects did you enjoy/study at school?
In High School my two favourite subjects were Business and PE. I've always loved playing sports and going to the gym, so PE was always fun for me. Looking back, I think PE helps build soft skills such as team working, communication and leadership. In my 6th year of school, I decided to do a crash Higher in Business. I really enjoyed it and its real-world practicality as I like to take what I've learned in a classroom and apply it to a real-life situation.Having a basic understanding of how a company operates behind the scenes is really beneficial for many different careers.
Unfortunately, I didn't perform as well as I hoped in 5th Year which led me to resitting subjects. I wasn't accepted into the business courses I wanted at university, so I applied for college as the entry requirements were lower. I attended the City of Glasgow college for 2 years, studying an HND in Business with Enterprise. It was the best two years I've had in education and ultimately not getting into university first time around was a blessing in disguise as college set me up for going to university.
What did you do after leaving school?
After securing an HND with a Grade A for both years, it allowed me to transition into 3rd Year of the BA (Hons) Risk Management Course at Glasgow Caledonian University. By studying at college first I found it an easier transition from High School and an easier step into 3rd year of University as the HND gave me strong foundations in all areas of business as well as developing key academic soft skills. Looking back to when I got my 5th Year results, I thought my prospects of going to university were slim. I have now managed to obtain an HND in Business and a First-Class Honours in Risk Management, in the same amount of time that many people take to get their degree after going to university straight away. If you don't achieve the school results you were hoping for, remember there are other ways of getting there in the end – it's not a determining factor on your future.
What development opportunities do you get at Scottish Water?
Scottish Water is an excellent company to work for in terms of development opportunities. The Graduate Programme gives me the opportunity to do 6-month placements around the business to see different aspects of the company and obtain a wider knowledge of other areas. Other employees are also given the opportunity to go on secondments (a temporary role in another part of the business), giving them the chance to try a different field whilst retaining job security. Scottish Water encourages employees to continue to learn and develop their skills, with internal and external training courses, and training videos which we can watch at our own pace. I have already been on a variety of internal and external training courses and completed 3 external qualifications in the 10 months I have been here.
What would you say to any young people wanting to do your job in the future?
I would highly recommend studying Risk Management to young people! The field is quickly growing with a variety of opportunities and all around the world. The thing I enjoy most about Risk Management is the ability to talk to all types of people. I also enjoy trying to find solutions to problems. I would say the skills you need to study Risk Management are:
Good Communication
Ability to network with new people
Good at Problem Solving
Be comfortable working with numbers and analytics