Scottish Water Cuts Carbon From Concrete
17 November 2022
Trials have been carried out at our waste water treatment works in Darmarnock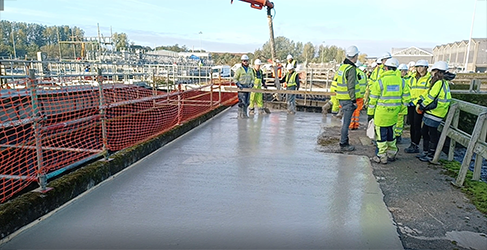 Two new types of concrete have been developed using production techniques that cut up to 70% of the usual amount of emissions
"It's always a pleasure to work with likeminded people who are dedicated to cutting their carbon, and we look forward to supporting Scottish Waters use of Cemfree at every stage on their net zero mission"

Aaron Lucid
Business Deveopment Manager, Cemfree
In one of the biggest innovations since the Romans invented it 2000 years ago, Scottish Water is cutting carbon emissions from construction using new concrete technology.
Two new types of concrete have been developed using production techniques that cut up to 70% of the usual amount of emissions.
Working with aggregate supplier, Breedon Aggregates, Scottish Water are investigating the use the new materials across the country.
David Lavery, Project Manager at Scottish Water said: "If the manufacturing of concrete was a country, globally it would be the third largest producer of carbon emissions, producing around 8% of the world's total.
"While there have been numerous developments in concrete over the past 100 years, the basic process of making it has remained much the same since the Romans invented it.
"These new techniques cut the amount of cement needed which dramatically reduces the amount of carbon dioxide produced in the process.
"Given that concrete is such an important component in construction because of its strength and versatility, we can make significant reductions in our emissions by using lower carbon alternatives at our sites."
Scottish Water is looking to adopting two new products – Cemfree and CarbonCure – currently being rolled out by its supply chain partner Breedon Aggregates at its yards in Glasgow.
During the delivery of a recent project at Shieldhall Wastewater Treatment Works, Aaron Lucid, Business Development Manager from Cemfree said;
"It has been fantastic to be part of this innovative project with Scottish Water to help them reach their net zero targets.
After carrying our vigorous testing and lab trials in collaboration with Scottish Water and Breedon, it's exciting and rewarding to see Cemfree Concrete successfully be poured on-site in Glasgow, offering vast carbon savings to the project.
It's always a pleasure to work with likeminded people who are dedicated to cutting their carbon, and we look forward to supporting Scottish Waters use of Cemfree at every stage on their net zero mission."
Gordon Reid, Scottish Water's Zero Emissions General Manager said: "This is a really exciting development for Scottish Water.
"We have successfully trialled these products across a small number of sites over the last couple of years and I am delighted that we are using them more widely.
"As a business, we have made some incredibly bold and brave commitments in reducing our carbon emissions, and I believe these technologies will go some way to delivering on those ambitions."
Scottish Water has committed to meeting net zero total emissions by 2040, and net zero operational emissions by 2030.