90th Birthday Surprise for Retired Civil Engineer
24 November 2022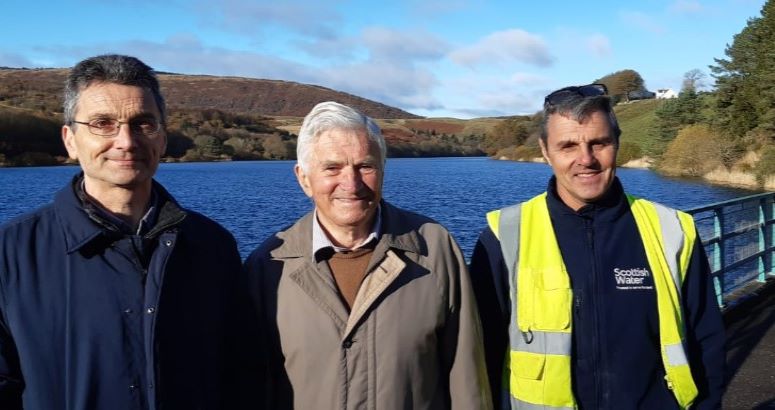 Castlehill Reservoir in Perth
Left to right: Neil Kitching (son), Brian Kitching (dad), Jimmy Will (Scottish Water Site Operator)
"The work I carried out at Castlehill was the proudest achievement of my career and it was great to get the chance, the day before my 90th birthday, to be shown around the reservoir and see that it is still successfully providing clean fresh, drinking water to the people of Fife."

Brian Kitching
Ex Civil Engineer who played vital part in design of Castlehill Reservoir in the 1970's
A retired engineer was given exclusive access to view pioneering technology at a Scottish Water reservoir as a 90th birthday surprise – 50 years after he helped design the site.
Former civil engineer, Brian Kitching, who worked full-time surveying and designing a new reservoir site in Perth in the 1970s, was given a gift to remember, with son Neil arranging for his dad to be shown round his old stomping ground once more.
Brian, who has an incredibly interesting background, including carrying out compulsory military conscription service as an engineer in his home country of Malaysia, moved to Perth in 1966, the year his son Neil was born.
The 90-year-old, who has been a member of the Institute of Civil Engineers for 70 years, said: "The work I carried out at Castlehill was the proudest achievement of my career and it was great to get the chance, the day before my 90th birthday, to be shown around the reservoir and see that it is still successfully providing clean fresh, drinking water to the people of Fife."
Earlier this month Brian and Neil met with Scottish Water operatives at the Castlehill site, where they were given a tour and the chance to ask questions.
One of the highlights of the visit for Brian, was seeing both the similarities and differences of the site from when he designed it over five decades ago.
"I installed an innovative turbine in the 1970s to pump water from the dam to the water treatment works using 'free' energy from the compensation water (water released to ensure the river downstream never dries up). It was great to see this still operating as designed."
Scottish Water's Senior Reservoir Engineer, Mark Mackenzie, and Site Operator, Jimmy Will, led the tour and were able to show Brian new aspects of the reservoir, including the recent addition of mini hydro-electric turbines installed as part of a project carried out by Scottish Water. These turbines are used to capture energy from surplus water, in what is another step for Scottish Water in its plans to reach net zero emissions by 2040.
Mark said: "This was not just a valuable visit for Brian, but also extremely informative for Scottish Water, as we were able to learn more about the history of the site. It was also great to see someone with such passion for the work they did as Brian, and it gives us great pride to now be involved in such a unique site."
Neil Kitching was also delighted in how his dad's birthday visit played out.
"Thank you to Scottish Water for making my dad's day - it was the highlight of his 90th birthday"