Local Artist Creates Oil Painting of 17th Century Edinburgh Landmark
02 November 2022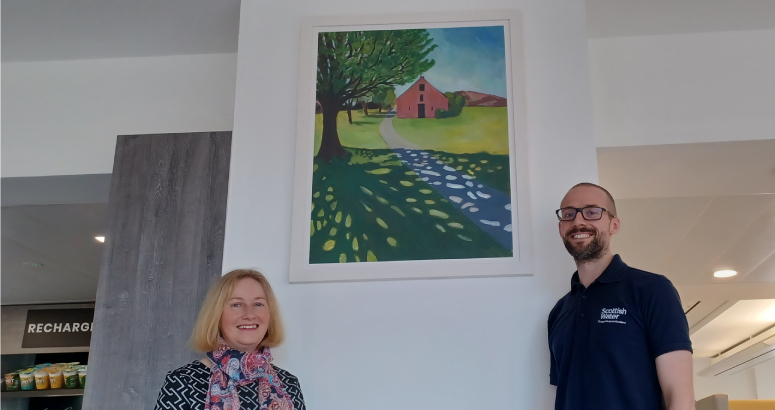 Sarah Kay Wren's painting of Comiston Spring House displayed in SW Edinburgh Office
An oil painting of a 17th century local historic landmark has gone on display at Scottish Water's Edinburgh office.
Sarah Kay Wren, a local community artist, painted the Comiston Spring House during lockdown as part of a final project for her studies at the Leith School of Art.
The original and unique painting depicts the building which dates back to 1677 and was a vital water source for the capital. During its operation up until 1945, the spring house was home to several small figurines of animals made from lead to mark which springs the water came from.
Describing why she painted the picture she said:
"It was during one of the first lockdowns and I was trying to find a local subject for my final project."
"I walk past the building all the time and have always been intrigued about what it was and what's inside. After looking into it a wee bit more, I found out how old it was and about the different animals depicting the different streams that went into it. I was fascinated by it!"
After creating several preparatory sketches of the building, some of which included the animals in the foreground, Sarah decided to keep it simple. She said:
"I paired it right back as it just looks like it is nestled into the environment and unaltered by time. From certain angles, you don't actually see the modern developments, just the trees and the Pentland hills in the distance. It feels like a little space of calm in a busy city."
The final painting was created over the course of 3 weeks. Once finished, Sarah was keen that it didn't just sit in a cupboard somewhere. She said:
"I was looking for something to do with the painting and then I found out Scottish Water were maintaining the building. It seemed like their local office was a natural place for it and I am pleased that is going to have a home!"
Adam Warner, Corporate Affairs at Scottish Water, said:
"I was really excited when Sarah reached out to us and showed us the painting. Comiston Spring House, is a pivotal piece of Edinburgh's water supply history, being used for nearly 300 years."
"I knew as soon as I saw it that we had to find a good home for it for staff and visitors to admire."
"We are really grateful to Sarah for her artwork and the injection of colour to the local office."
The painting is displayed prominently at Scottish Water's office in Fairmilehead.