Scottish Water Donates Christmas Tree as Thank You to Ibrox and Cessnock Community
15 December 2022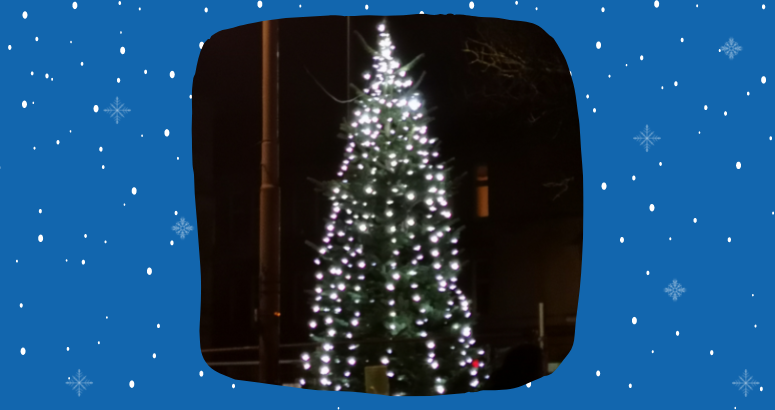 Festive Cheer
Almost 100 local people attended the switching on of the lights at Ibrox Library.
Scottish Water donated a Christmas tree to the Ibrox and Cessnock community in south west Glasgow as a thank you to people in the area for their patience and understanding during work on improvements to our service to customers.

Almost 100 local people attended the switching on of the Christmas tree lights at Ibrox Library on Wednesday December 7. The Christmas tree is the first one the community has had.

Jane McKenzie, Scottish Water's Communications Manager, who switched on the lights, said: "We were delighted to donate the Christmas tree to the local community as our way of thanking them for their patience and understanding during some of our work in the area.

"We always make every effort to minimise any disruption or inconvenience when we are working in any community but sometimes it is unavoidable and we greatly appreciate the help we've received from customers in the area."

Avril Williamson, Chair of Ibrox and Cessnock Community Council, said: "The number of local residents who turned out in freezing weather to see the Christmas tree lights switched on was three times what we expected. This shows how much the people of Ibrox and Cessnock are excited to have their own Christmas tree at last. We are very grateful to Scottish Water for their donation, which has brought some extra Christmas cheer to the community."

The Clyde Community Hall hosted families after the Christmas tree lights were switched on and provided pizza and hot drinks and selection boxes for children attending. Ibrox Co-Op provided mince pies and donuts.

Ms Williamson added: "It was a lovely community celebration and we hope to be able to do it all again next year as a tradition has been started."

Pipe installation and other work Scottish Water has been carrying out in the area is part of the Glasgow Resilience Project, which involves the installation of seven miles of new pipes to connect the Glasgow area's water network and the system in Ayrshire.

This will increase resilience and protect supplies for about one million customers.

The new water main is being installed in the Ibrox, Mosspark, Pollok, Priesthill, Nitshill and Parkhouse areas of Glasgow.

The project is being delivered for Scottish Water by Caledonia Water Alliance, our alliance partner, and is expected to be completed in 2023.