Young Scottish Water Engineer first to win prestigious new award
28 December 2022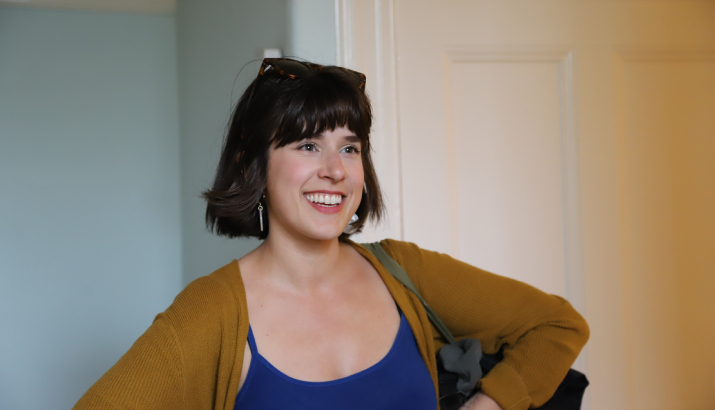 Flora Duff
Scottish Water engineer received the junior president's award at the 2022 Chartered Institute of Water and Environmental Management (CIWEM) annual awards
Scottish Water engineer, Edinburgh local and Chicagoan native, Flora Duff, 29, has received the junior president's award at the 2022 Chartered Institute of Water and Environmental Management (CIWEM) annual awards.

2022 is the first year the organisation, which has thousands of members worldwide, has awarded someone with such a high accolade so early on in their career.

Flora's father emigrated from Scotland to the USA as a young man to become a race mechanic. In 2016, she did the same journey in reverse to work for Scottish Water in Edinburgh after being inspired by the beauty of her family's ancestral home. Since then, she has worked tirelessly as an environmentalist, engineer and mentor to young people.

The award she has won recognises individuals who have made significant contributions to the field in the past year and Flora was awarded for her creativity, energy and commitment.

Over the past year she has, among other things; set up an Edinburgh Wildlife Watch Group for young people in the city; has lectured first year environmental engineering students at the University of Iowa; and has helped raise thousands of pounds for social and environmental charities.

After receiving Flora, who has been with Scottish Water for five years, said;

"I am shocked and flattered to have won this award from such a far-reaching organisation.

I am passionate about water and the environment both in and outside of work.

Since starting work, I have been focused on supporting and encouraging those considering a career in the sector or who are new into the workplace."

CIWEM Junior President Mathew Jack said, "Flora is a hugely impressive individual, who over the previous 12 months has shown a dedication to CIWEM which is above and beyond."

Flora is a key supporter of WaterAid, Scottish Water's charity partner, and has been at the forefront of employee fundraising. This year she will be travelling to Rwanda to visit projects supported by Scottish Water's people.

She is currently working towards her chartership.