Major Commuter Route Reopens after Mega-Main Burst
08 February 2023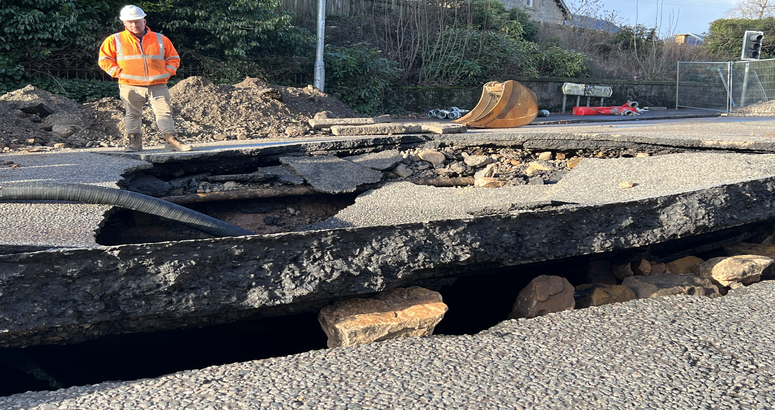 Auchenhowie Milngavie Mains Burst
Watch our short film showing the major effort to get the road reopened and traffic moving again.
A busy Glasgow commuter road reopens today, Wednesday 8 February, just two weeks after a major burst on a 160-year-old Victorian water main affecting water supply to half of the city.
The 36-inch pipe under Auchenhowie Road in Milngavie ruptured, interrupting supplies to around 250,000 customers across Glasgow on Tuesday 24 January.
The road collapsed under the pressure of the water and residents reported the scene looked like the set of a disaster movie.
We launched an epic repair operation, quickly restoring supplies to customers by using the resilience built into the water network.
The damaged section of pipe was removed and replaced, and teams have worked round the clock to complete the reinstatement work.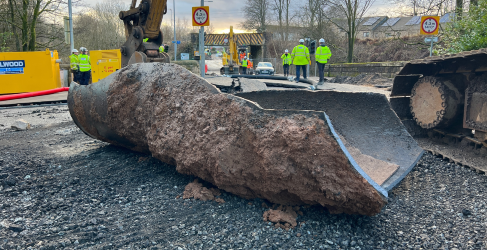 The burst pipe dated back to 1860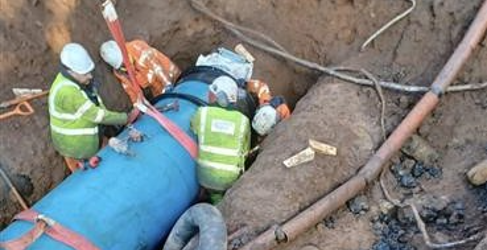 A new pipe has been installed
Scottish Water's Customer Service General Manager Kevin Roy said: "We are really pleased to see this road open and particularly proud of the team who worked to turn this round as quickly as possible. Seeing it now, it's hard to believe the scene we witnessed just two weeks ago.
"This was a major incident, but with the resilience and expertise of our teams we managed to get this under control quickly and deliver a major repair while ensuring minimum disruption for residents and road users.
"It was roughly five hours from the burst to the point where people were back in water.
"Given the size of the main and the size of the population that was disrupted I think that was a fantastic recovery by the water operational team.
"Since then around 50 people have been working round the clock to repair the road as quickly as possible - that has included excavating all the way down, refilling, sorting all the iron work and the pavement, the kerbs and then the final bit of the black top to resurface the road back to its normal condition."
The damaged pipe – dating back to 1860 – had to be removed in two sections. One section was lodged beneath a high voltage electricity cable supplying the nearby Milngavie Water Treatment Works.
Other utilities including phone lines and gas pipes had to be made safe before the water main could be repaired and the road reinstated.
Initially Auchenhowie Road and Glasgow Road were both closed with a 15-minute diversion in place, but Auchenhowie Road was opened with two-way signals within two days of the burst occurring.
Kevin said residents and road users have been extremely understanding and appreciative of the efforts of the Scottish Water teams.
He said: "You would think in an adverse situation like this we would have a lot of negative sentiment, but we haven't.
"We were right on it from the start, communicating and visually allowing people to understand the complexity of what we were dealing with.
"Whilst we have had some community disruption, we have had a really positive response from the community, and we thank them for their patience and their cooperation."