Davy Nutt Retires after almost half a century at Scottish Water
22 March 2023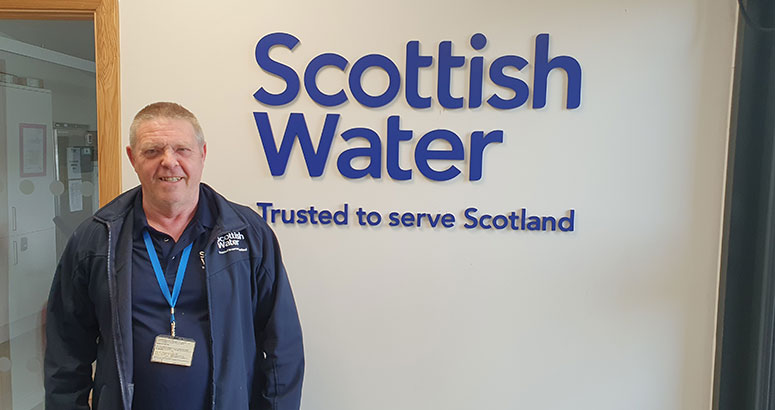 Davy Nutt
Davy is retires after 47 years at Scottish Water
"Davy has been a huge asset to Scottish Water. His commitment to the company and skill at his job have consistently shone through"

Peter Farrer
Chief Operating Officer, Scottish Water
Annan's David 'Davy' Nutt, 64, is hanging up his hi-vis after a career at Scottish Water spanning five decades.
Davy joined Dumfries Regional Council in 1976, the same year rock band Chicago released their hit song "If You Leave Me Now". Now, in 2023, it is Davy's turn to leave after nearly 47 years with the company.
Starting his career in Eaglesfield on a 12 week property maintenance contract, Davy quickly proved himself to his supervisors. After just six weeks, he landed himself a permanent role with the council on the squads, excavating pipes and carrying out repairs.
From here, he rose through the ranks first becoming an inspector looking after the squads, then a senior inspector and is now a Leakage Field Technician Supervisor. He said;
"I've always found my job satisfying. I've really enjoyed getting out and about, finding and fixing problems on the network."
Looking back, Davy noted the massive changes that have happened over his career, which began the same year that Apple computers was started. The change that sticks out the most though is nothing to do with technology. He said;
"Health and safety back then was an afterthought. We used to dig huge holes in the road without any drawings or idea of where other utilities were. Considering how central safety is to everything we do now, I don't know how we thought that was ok!"
Despite so much change, one thing has remained constant, Davy said;
"From day one up to now, I've loved the banter with everyone I've worked with. I couldn't ask for a better bunch of folk. Even those I had my differences with at first ended up being the best of pals."
Reflecting on one of his fondest memories in the role, he said;
"One of the funniest things I ever saw on the squads was a guy called Dennis digging like mad to find a leak. About two hours in, the area engineer turned up and broke the news that he was digging on the wrong side of the road. Without skipping a beat, Dennis pulled himself up and out of the hole, walked across the road and began digging at the same speed on the right side! What can I say? Dennis loved to dig!"
The banter isn't the only thing that has kept him working at the company for so many years. He continued;

"It's always been a great place to work. I've always felt appreciated, looked after and secure. Even when I had a really hard boss, I remember him calling everyone that had worked for him individually when he retired to thank them."
Davy is a firm supporter of young people looking for careers in the water sector. When asked what advice he would give young people considering a career at Scottish Water, he said;
"Do as much learning as you can at college and then get yourself on an apprenticeship. It is a great place to work and there are so many opportunities for young people."
Peter Farrer, Chief Operating Officer at Scottish Water said;
"Davy has been a huge asset to Scottish Water. His commitment to the company and skill at his job have consistently shone through. Scottish Water is incredibly grateful for his efforts and I wish him all the best in retirement."
Davy plans to spend his retirement "attempting to play golf" and spending time with his family including 8 grandchildren