Scottish Water Top Up Tap at Heart of Helensburgh
28 March 2023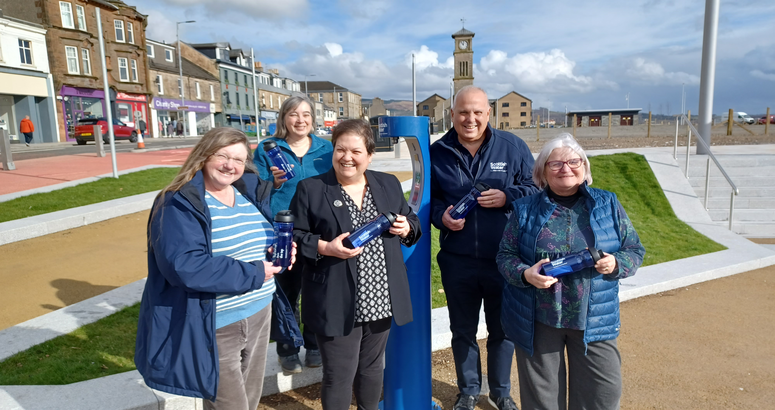 On the Waterfront
The new Top Up Tap is launched by (L-R) Angela Anderson, Plastic Free Helensburgh (PFH), Elizabeth Lambert (PFH), Jackie Baillie MSP, Alan Thomson, Scottish Water and Sarah Davies (PFH)
We have officially launched our latest Top Up Tap so locals and visitors to Helensburgh can stay hydrated while enjoying spectacular views of the River Clyde.
Located at the heart of the picturesque town's new-look Waterfront it is close to the new leisure centre, and available for people using the pier, or cyclists, walkers and runners perhaps setting off on the famous John Muir Way.
Alan Thomson, Head of Corporate Relations at Scottish Water said; "Our Top Up Taps have become local landmarks in dozens of communities across Scotland.
"They have adopted our taps as places to meet up to start walks or cycles from, and in towns and cities they are hugely popular with shoppers, commuters and office workers.
"They also act as a reminder of Scottish Water's role in all our lives, providing a source of safe, clear, world-class water to over 2.6million households.
"Since we launched the first Top Up Tap in 2018, we've been inundated with requests from community groups to install taps in their area.
"To date there are 85 Top Up Taps across the country with another 25 currently going through the planning application process.
"Given 88% of people think Scottish water is world-class, we're delighted to enable people to top up when out and about with Scotland's most precious natural resource."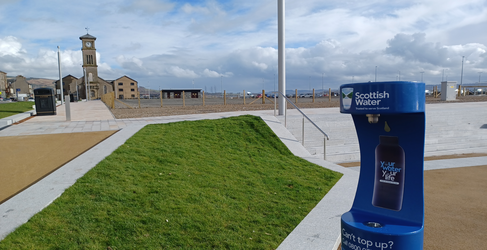 The equivalent of 3.5million plastic bottles have been saved by people using the Taps to drink over a million litres of water.
Jackie Baillie, Dumbarton constituency MSP, said: "I am delighted that Helensburgh now has its own Top Up Tap.
"Not only is this great for residents and visitors who will be able to access water easily while out and about, it is also good for the environment as it helps to cut down on single-use plastic bottles.
"I am grateful to Scottish Water for installing this and to the ongoing efforts of Plastic Free Helensburgh to encourage members of the community to become more aware of the environment."
Three out of four people in Scotland now carry a water bottle when on the move, doing away with the expense and environmental impact of buying bottled water.
Sarah Davies is with Plastic Free Helensburgh. She said they were really pleased to be involved in bringing the new Tap to the town: "As an organisation we are dedicated to reducing the amount of single use plastic in our town and from littering our countryside and beaches.
"We encourage everyone to carry a reusable cup or bottle when out and about in Helensburgh and to make use of this fantastic new facility.
"The Tap is also conveniently situated at the point where the community meets for regular beach cleans and while our dedicated volunteers will benefit from the Tap to refill their own bottles, it will help significantly reduce the number of plastic bottles littering our beach and promenade."
Alan Thomson added: "The Taps truly put Scottish water in the hands of customers, enabling active travel and leisure pursuits. These are your taps, with your water for your life."