Record number of children learning to swim in Fife
18 May 2023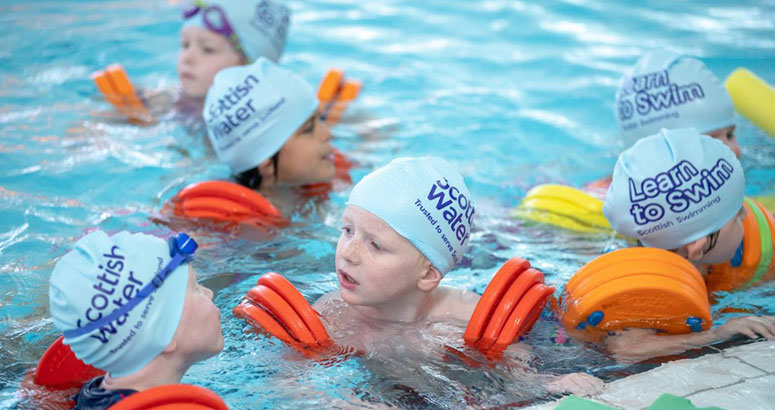 Learn to Swim
Record number of children take to the water in Fife
Young Fifers are learning to swim in record numbers after a local leisure trust successfully boosted awareness of its programme to families across the region.
With a mission to create the next generation of confident, safe and competent swimmers, over 8100 young Fifers are now enrolled onto the Learn to Swim programme - a partnership between Scottish Swimming and Scottish Water delivered by 37 Leisure Trusts and Aquatic Providers including Fife Sports and Leisure Trust (FSLT).
The programme has been delivered in the area for six years across fourteen venues and despite challenges caused by the pandemic, FSLT's aquatic offering bounced back fully within five months of pools and leisure centres reopening.
Since then, FSLT has gone from strength to strength by maximising every opportunity to increase pool capacity and retain young swimmers.
Lee Cunningham, Activities Manager at FSLT, said: "There are so many important reasons for children to learn to swim.
"Not only is it a vital life skill, swimming also provides children with physical exercise and develops their social skills. Swimming teaches children how to overcome challenges independently and become safe and confident in the water; all of these are invaluable contributions to their personal development.
"At FSLT, we're always looking to help kids along that journey in whatever way we can."
FSLT is eager to retain its 8,000-strong Learn to Swim participants throughout 2023, and in particular, is looking to expand its teaching provision for its five to nine-year-olds who missed out on significant opportunities for personal development during the pandemic.
The impressive uptake has led to an increased demand for instructors and staff at the charitable trust's facilities – which already employs over 100 swim teachers.
In order to showcase these opportunities, FSLT is hosting a careers roadshow across Fife in April and May, visiting Dunfermline on 17 April, Glenrothes on 24 April, and Cupar on 1 May.
Euan Lowe, CEO of Scottish Swimming, said: "The programme uptake in Fife is fantastic and it is encouraging to see children of all ages participating and developing such vital life skills.
"FSLT's ambitions to continue on this path of rapid growth is impressive. Not only does it raise awareness for learning to swim but also gives all children a real platform for success and to achieve their full potential in the pool and out."
The next chapter of Learn to Swim will build a real legacy for Scotland, which has already provided swim lessons to more than 100,000 children, and aims to reach another 100,000 by 2025.
Brian Lironi, Director of Corporate Affairs at Scottish Water, said: "Learning to swim is vital for young people and is a skill that once learnt is rarely forgotten. The drive to encourage as many young people into the pool by leisure trusts, like FSLT, is positively impacting the nation's health and wellbeing – while keeping more people safe in and around water."
FSLT has funding available to support candidates' professional training, which covers team teaching and essential training including child protection. For more information on job opportunities and the career roadshow, visit: Fife Leisure Careers
The Learn to Swim Framework is committed to creating supportive and quality environments in which children can learn to swim, as well as improve their water safety and swimming techniques, regardless of their age, ability, or skill level.
The programme is centred around progress and enjoyment, and aims to build a legacy of 'Generation Swim' in Scotland whereby children achieve their potential in the pool and out. For more information on the programme, visit: Scottish Swimming