Call for public support in stopping fire hydrant vandalism to reduce risk to lives
12 June 2023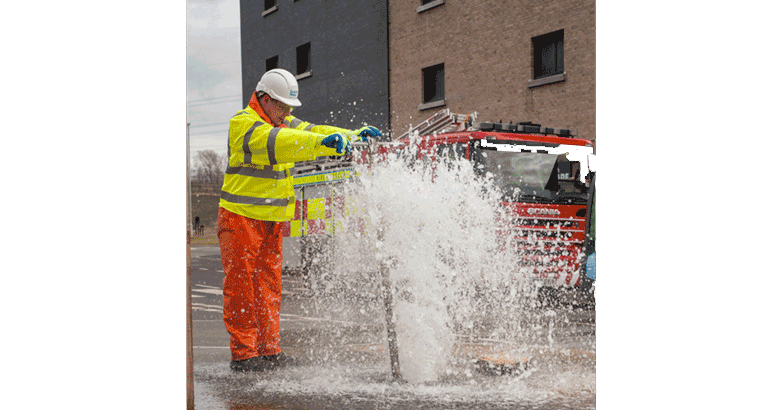 Fire Hydrant Vadalism
Fire hydrant vandalism can lead to disruption to the water supply
"Firefighters rely on these hydrants for fighting fires and a shortage of water could endanger people's lives and property."

Kes Juskowiak
General Manager of Customer Water Services, Scottish Water
Scottish Water and the Scottish Fire and Rescue Service are warning the public that fire hydrant vandalism can cause widespread disruption and put lives at risk following a recent spate of incidents.
We are urging people not to set off fire hydrants and calling on anyone who witnesses this type of vandalism to report it to Police Scotland immediately
The call follows about 40 incidents of fire hydrant vandalism recorded by Scottish Water in the past four weeks, some of which caused disruption of water supply to customers, reduced water pressure or discoloured water, and localised flooding in streets.
They can also result in water supplies for firefighters being adversely impacted and so hamper their ability to tackle fires, with an obvious increased risk to lives and property damage.
In one incident recently, a child who set off a fire hydrant was injured by the force of the water pressure coming out of it.
Most of the incidents occurred in parts of the Glasgow and Edinburgh areas, including Parkhead, Rutherglen, and Niddrie.
Fire hydrants are a connection point to water mains and allow access to the water network, primarily for firefighting purposes.
The frequency of fire hydrant vandalism incidents can increase during warm, dry weather and the school summer holidays and in previous years there have been a number of incidents, particularly in the Central Belt, which have wasted the valuable time of Scottish Water workers and firefighters and distracted them from other priorities.
Whenever there are a number of these incidents Scottish Water has to bring in extra resources to tackle the problem and this means our ability to deal with water-related issues elsewhere can be adversely affected.
Kes Juskowiak, Scottish Water's General Manager of Customer Water Services, said: "Some people who vandalise fire hydrants may see it as 'harmless fun' but that's not the case. The reality is that as they play in the water, homes and businesses are suffering low water pressure or a loss of supply.
"Also, firefighters rely on these hydrants for fighting fires and a shortage of water could endanger people's lives and property.
He added: "Fire hydrant vandalism is completely reckless and selfish and communities need to help us put a stop to this behaviour before the unthinkable occurs. We're urging people to help us tackle the problem by reporting any incidents to the police immediately."
Area Commander Gordon Pryde, Head of Prevention and Protection at the Scottish Fire and Rescue Service, said: "Tampering with or vandalising a fire hydrant is a criminal offence and could put lives at risk. It is vital that our firefighters have access to operational hydrants to ensure fires are safely extinguished, ultimately protecting lives as well as people's homes and businesses.
"Anyone who interferes with or vandalises a fire hydrant is also placing themselves at risk due to the potential release of high-water pressure. It can also impact local water supplies.
"We take this matter very seriously and ask that parents and carers warn children about the dangers of hydrant vandalism, to both themselves and their wider community."
Fire hydrants can be accessed legally only by Scottish Water, Scottish Fire and Rescue and anyone who has been given permission from Scottish Water.
Vandalising or setting off a fire hydrant could lead to a fine of up to £5000, according to the Fire Scotland Act 2005, Section 23.
Anyone who witnesses fire hydrant vandalism can contact Police Scotland by phoning 101 or call the independent charity Crimestoppers anonymously on 0800 555 111 or give the information anonymously on www.fearless.org, which is part of Crimestoppers.