Brian Warren retires after half a century of looking after Edinburgh's pipes
19 June 2023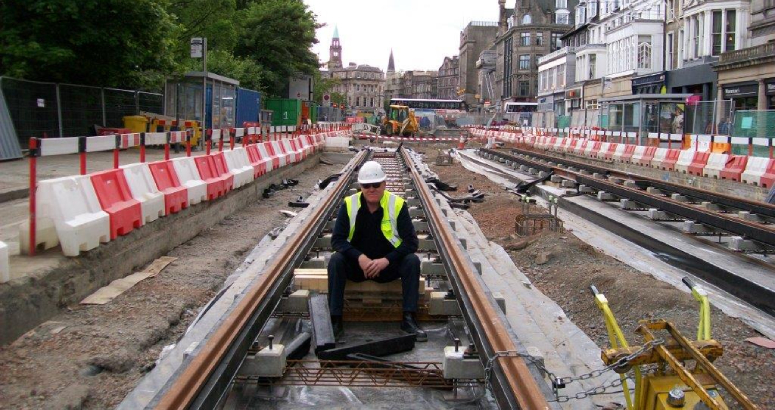 Brian Warren
One of Brian's proudest moments is helping enable the Edinburgh trams in 2008.
Brian Warren from Drylaw, Edinburgh hangs up his hi-vis for the last time after 36 years at Scottish Water.
Brian, now 66 joined the water industry in Scotland in 1987 at Lothian Regional Council, after working as a plumber in the city since his apprenticeship in 1972.
Over the years, he went on to hold various operational roles in Scottish Water; initially his first 12 years were spent as a service and pipe layer, then spent several years working in the community as a network operator in Leith.
Brian a Hibernian FC fan said;
"This role was one of my favourite roles in Scottish Water as I got to cover the area where Hibs play. I'll admit I occasionally used to use the local yard as my private carpark on match days which was a massive perk of the job."
Reflecting on the early days of his role in the community, he continued;
"Working in the community I used to come across some crazy sights. I remember I once had to go to a flat to ask the resident to fix a huge leak in his property, which was wasting a large amount of water. The resident told me to go away in no uncertain terms so I had to return with two police officers and a plumber. It only took us 5 minutes to fix the leak but the property was badly damaged."
After a shoulder injury, Brian had to change roles and became one of Scottish Waters Skills Academy Instructors, teaching young new recruits about pressure management, valve work and the importance of health and safety.
He said;
"At first I was very disappointed when I couldn't return to my role as a network operator as I loved working outside. However I really enjoyed teaching people and it gave me the skills I needed to move into my next role."
In 2019, Brian took on a role in Tighnabruaich, Argyll and Bute where he worked and stayed for a year on a project to find and remove lead pipework from customers properties.
He said;
"I love the west coast of Scotland so I jumped at the opportunity to live there for a year. The people there were lovely, the work was interesting, and I will always remember what a beautiful place it was."
Brian will finish his career as a customer side leakage technician working across the country.
He said;
"I have had a great career. From making life-long friends at the yard, to being a part of Edinburgh's history by enabling the tram works. I wouldn't change a thing."
When asked what advice he would give to people looking for a job in the industry. He said;
"I will tell you what I told my grandson who now also works for Scottish Water. Nothing organic on this planet survives without water - it will always be needed and there will always be a good job here."
Brian intends to spend his retirement with his wife of 50 years Lorraine and his German Shepard Otis. He looks forward to having more time to play the drums and travel highlands and islands.