BLOG: Summer challenge for keeping Scotland's water flowing
14 July 2023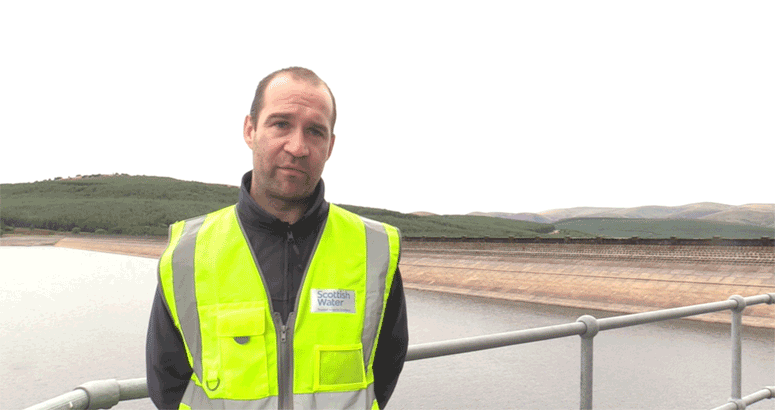 Kes Juskowiak
Our Customer Water Services General Manager talks about the challenges of keeping the water flowing in summer
When you work in a team obsessed with delivering great customer service it can make the most difficult times easier.
Scotland is a wet country, right? Everyone knows the fact Loch Ness has more water in it that all the lakes in England and Wales combined. Scotland has 90% of UK's fresh water and has over 30,000 freshwater lochs, so what's the problem? Five lochs in Scotland hold 30% of fresh water, Loch Lomond, Loch Awe, Loch Morar, Loch Shiel and Loch Ness. We don't use these in any significant volume
We only use around 450 sources with a mix of reservoirs, lochs, rivers, boreholes and springs and they must be where the customers are, all the water in Loch Ness is no use to our customers in Fife for example.
So, while most look forward to the summer period, the Water teams are apprehensive as the hot dry weather brings two issues. Firstly, exceptional demand with household demand often increasing by 20% or more. Secondly, later in year some of our systems start to see effects of drought with low levels.
The water network is a little like the road network, most of the time it works fine. It can deal with higher traffic at higher speeds on the motorways but as it gets to the more rural areas the cars simply can't drive as fast. During hot dry spells, demand increases, and we can struggle to simply move the water quick enough along the pipes (roads) to customers. This leads to storage levels dropping and a lot of activity from our teams to ensure no customer is impacted. 25% of our storage tanks were in low level during the recent demand spikes. We work round the clock, opening supply from different areas, adding in tankers to move the water by road and ensuring we fix any leaks as quickly as possible.
We start early on this (usually April or May), putting in plans and closely monitoring all our assets. However, while many of the activities we do are well rehearsed each event has its own unique and new challenges and we are still adapting to changing customer use post Covid.
I'm immensely proud to work with the water teams, whenever the challenge appears, we rise to it and learn making us better for the future.
Success for us is when customers turn on tap and enjoy great tasting water every minute of the day. All the work that goes into ensuring this particularly in the summer & winter doesn't get the credit it deserves. The sacrifices our teams make, working long days, coming out during holidays, helping colleagues during the night and missing on family occasions. They do it because they care about the service they provide to the customers, that makes it all a bit easier when you have a strong purpose.