Scottish Water Partners Groundbreaking Kidney Support Project
06 September 2023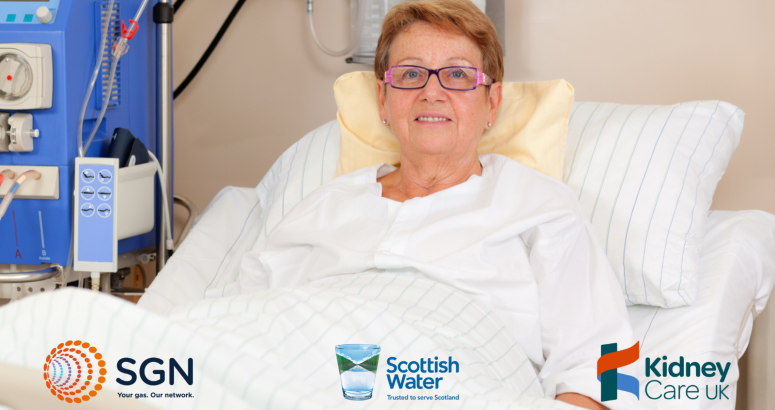 Scottish Water is taking part in a ground-breaking partnership with the UK's leading kidney patient support charity, Kidney Care UK.
Thousands of people with kidney disease in four Scottish cities are being offered specialist support from the initiative - which also involves gas network company SGN – promoting the Priority Services Register (PSR) Scotland.
The new service will provide extra help during power cuts and interruptions to gas, electricity and water supplies.
It is the first time a charity and utility companies have worked together in this way and will offer direct specialist support to more than 5000 people with kidney failure in Glasgow, Aberdeen, Dundee and Perth where there is a high prevalence of chronic kidney disease (CKD).
Through the partnership, people with CKD in these areas will also be able to access utility safeguarding services and comprehensive, holistic support from Kidney Care UK, including hardship grants, counselling and community patient support.
Kidney Care UK will also be training front line vulnerability staff from SGN and Scottish Water as part of the project so that staff can better understand the challenges faced by kidney patients, enabling them to offer the best support to acutely vulnerable customers across Scotland.
Laurie Cuthbert, Director of Fundraising, Marketing & Communications at Kidney Care UK, said: "By working collaboratively in this way we will be able to directly support more than thousands of people with CKD in some of the most deprived areas of Scotland, reaching more than 38,000 who could benefit from the wider support and information services our charity provides.
"In the first six months of 2023, our Patient Support & Advocacy Officers have already supported many kidney patients in Scotland, this includes more than £30,000 in individual financial grants, as well as securing more than £40,000 for people with kidney disease in Scotland through income maximisation and debt relief schemes they were eligible for, or through unrealised benefits they were entitled to. It is clear that there is an acute need for this support at a time when the kidney community in Scotland need it more than ever. We look forward to working with SGN and Scottish Water to help more people in need."
SGN Vulnerability Manager Linda Spence, said: "We're delighted to have teamed up with Kidney Care UK and Scottish water to make a real difference and support our vulnerable customers in Scotland. We believe everyone deserves to be safe and warm at home all year round, and with colder weather just around the corner, it's important that those living with CKD are aware of the many ways we can help if they ever have an issue with their gas, water, or electricity supply. We're also helping Kidney Care UK to provide carbon monoxide (CO) awareness sessions and free audible CO alarms, to keep families and individuals across Scotland safe from the highly poisonous gas."
Scottish Water's Customer Service General Manager, Kevin Roy commented: "Scottish Water is delighted to be a part of this partnership to help ensure customers with a critical need for water are aware of the support services available to them. Water and waste water services are essential to daily life, and it's often not until these services are interrupted that people appreciate just how important they are. Customers requiring additional support can sign up to our Priority Services Register to help ensure in the event of an interruption to their water supply, we're able to prioritise them and make sure they get the support they need."
SGN, Scottish Water and Kidney Care UK are also working together to raise awareness of carbon monoxide poisoning and that people with kidney disease in Aberdeen, Dundee, Glasgow and Perth will also be able to sign up for a free carbon monoxide alarm.