Residents Urged to Bin Wipes to 'Keep Helensburgh Heavenly'
07 November 2023
We have joined forces with local campaign group Plastic Free Helensburgh to urge residents to help wipe out chokes following a big spike in sewer blockages in the town.

In the last year, Scottish Water workers have dealt with 108 blockages in Helensburgh, which increases to 178 if the surrounding areas of Rhu, Shandon, Garelochhead, Clynder & Roseneath, Cove & Kilcreggan are included.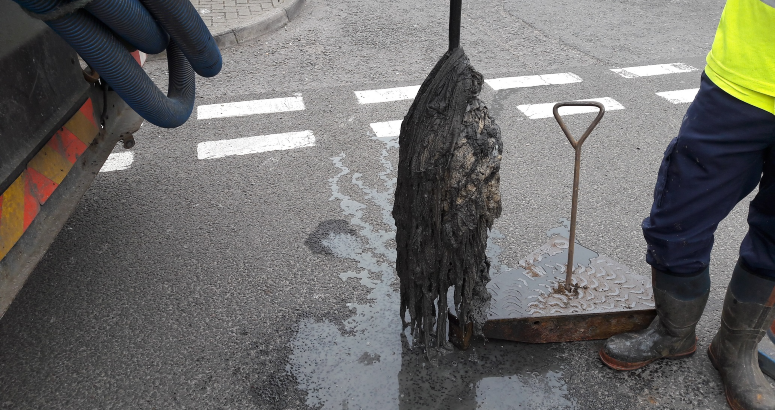 Blockage Busters
This photograph shows the disgusting effects of people flushing the wrong items down the toilet. Please only flush the 3Ps - Pee, Poo and (toilet) Paper. 
"With heavy flooding rainfall it is increasingly important to keep our combined drainage system as free flowing as possible. "

Angela Anderson
Chair of Plastic Free Helensburgh
This week, Scottish Water has launched a localised version of their nationwide behaviour change campaign – Nature Calls – to target these areas directly.
A range of campaign marketing activities is urging householders to act now to help wipe out sewer blockages by binning wipes.
Scottish Water will be grabbing residents' attention through street stencils, outdoor posters, social media adverts and local events raising awareness of the problem.
Georgina Reid, Scottish Water's corporate affairs manager in the west region, said: "Our wider Nature Calls campaign asks the people of Scotland to bin wipes and other bathroom items to help protect nature. This localised campaign activity in Helensburgh is specifically targeting known hotspots where we have spent a great deal of time, effort and resources fixing blocked sewer pipes.
"Across Scotland, we attend around 36,000 blockages a year - which Scottish Water clears at a cost of £7 million. Wipes and other common bathroom items simply don't break down in our sewers, they combine with fats, oils and greases and can affect how the sewer operates. This can then lead to sewer flooding in communities and harm to the environment."
Scottish Water and Plastic Free Helensburgh will be promoting the Nature Calls campaign at the Christmas Light Switch On event in Colquhoun Square between 10am-6pm on Saturday 18th November 2. The team will also be at PTA Fair at Hermitage Academy between 11am-2pm on the same day. Scottish Water will be handing out small bathroom bins and reusable wipes – research shows that 36% of people in Scotland don't have a bathroom bin, so inevitably waste ends up being flushed down toilets, which should never happen.
Georgina added: "It really isn't difficult. If people could simply take the time to stop and think and bin the wipes instead of flushing, many sewer blockages and consequent bursts could be avoided. It's vitally important people understand that wipes are not welcome in our sewers and we hope this campaign motivates them to change their behaviour."
Angela Anderson, Chair of Plastic Free Helensburgh, said: "With heavy flooding rainfall it is increasingly important to keep our combined drainage system as free flowing as possible.
"We are happy to support Scottish Water's campaign and we are keen for residents of Helensburgh to remember to flush 3 Ps, Pee, Poo and Paper. Sadly, we find all sorts of sewer related debris and foul wipes on our beaches. Helensburgh had 108 blockages last year, this costs, in terms of nuisance, time, disruption and resources. Let's keep Helensburgh heavenly."
As part of the Nature Calls campaign, Scottish Water is calling for a ban on wipes containing plastics. Plastic Free Helensburgh are one of the organisations 'backing the ban', which has been heard loud and clear by politicians – a ban on wipes containing plastic has now been adopted by the UK Government to be implemented.
For further information on the campaign visit the Disocver More section below.