Local swimming provider championing inclusion
14 November 2023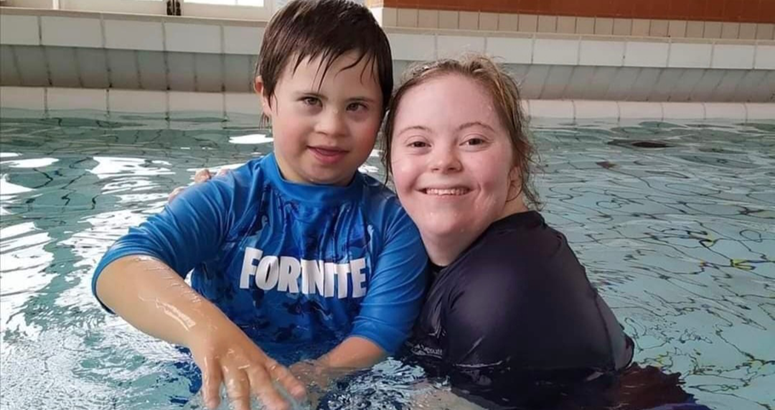 Learn to Swim
Teacher Cerys (right) with young swimmer
A Local authority has broken down barriers to allow swimming lessons to be accessible and inclusive to all children across South Ayrshire.
A new report shows that 85% of children with disabilities take part in mainstream Learn to Swim lessons in 2023 in the area, up from 77% in 2020, reflecting Sport and Leisure South Ayrshire's commitment to making swimming inclusive to all.
Through the adaption of pool facilities and staff awareness training, it has allowed more children to learn to swim as well as gain the social benefits beyond just swimming that they wouldn't experience in a one-to-one setting.
South Ayrshire Council's Sport and Leisure team is one of 38 Learn to Swim providers who deliver the National Framework, a partnership between Scottish Swimming and Scottish Water. Over 3000 children are enrolled in lessons across the four pools in South Ayrshire.
The leisure provider's inclusive ethos shines through in their efforts to employ and train swimming instructors with disabilities. Additionally, all staff members undergo disability awareness training to foster understanding and ensure an accommodating environment.
Councillor Brian Connolly, Sport and Leisure Portfolio Holder for South Ayrshire Council said: "Swimming is an important life skill, and we want to be able to provide as many children as possible with an opportunity to learn to swim, no matter their ability.
"We're proud to be an inclusive employer, and we're ensuring that all staff from reception to poolside undergo awareness training. We're also in the process of providing deaf awareness training to staff."
In a bid to increase communication with parents and caregivers, an online form has been rolled out for parents and caregivers to complete at anytime with updates on their child's needs to ensure adaptations are made to include as many children as possible.
Katie Campbell, Team Leader at South Ayrshire Council said: "For a child with a disability, being able to take part in the same lessons as their peers does wonders for their confidence and social skills, we've seen so many children thrive and move up skill levels more quickly than if they were in one-to-one lessons."
Nationwide, Learn to Swim leisure providers have seen a rise in children with disabilities partaking in group swimming lessons rather than individual lessons - increasing from 54% in 2020 to 71% in 2023. Learn to Swim's "See My Ability" campaign, which is now in its fourth year, has played a significant role in this increase.
Paralympic medallist Toni Shaw champions the "See My Ability" campaign, which has spearheaded nationwide initiatives to make group swimming lessons accessible for all children and promote inclusion and diversity in the sport.
The Learn to Swim framework – a partnership between Scottish Swimming and Scottish Water – has already provided lessons to more than 100,000 children and aims to reach another 100,000 by 2025, helping to equip more young people across Scotland with the skills to stay safe and be confident in the water.
Euan Lowe, CEO of Scottish Swimming said: "Learning to swim should be accessible to everyone and anyone. The Learn to Swim programme provides a setting to allow children, no matter their ability, to learn the skill with their peers.
"Our framework has been designed to be inclusive so providers can adapt lessons to ensure that all children, where possible, can thrive in mainstream lessons. We hope to see this increase with more Learn to Swim providers following the lead in coming years.
"Not only is swimming a vital life skill but it can help improve children's social skills and health benefits. "
The National Framework is delivered by 38 leisure trusts and aquatic providers across more than 160 pools.
Brian Lironi, Director of Corporate Affairs at Scottish Water, said: "Learn to Swim gives all children the opportunity to learn and enjoy swimming in a safe way.
"One of our aims is to create a generation of safe and responsible swimmers as well as emphasise the other health and social benefits that swimming generates, especially at such a young age.
"The See My Ability campaign plays such an important role in helping to encourage children of all abilities – and their parents – to take part in mainstream lessons, with their friends, and have teachers who feel supported in delivering the framework to all."
Learn to Swim is a National Framework committed to creating supportive and quality environments in which children can learn to swim regardless of their age, ability, or skill level. It aims to develop competent swimmers, as well as encouraging youngsters to adopt a healthy and fulfilling lifestyle with sport and fun at its heart to reach their full potential both in the pool and out.
For more information on the Learn to Swim programme, visit learntoswim.scot