Water Pipes Upgraded and Pupils Educated in Blairdaff & Kemnay
15 November 2023
SCOTTISH Water's investment in an Aberdeenshire community has been completed ahead of schedule.
The £1.7m essential upgrade to renew 3.5km of water main from Blairdaff to Kemnay was carried out by Caledonia Water Alliance (CWA) on behalf of Scottish Water, and will allow customers to continue to enjoy high quality, fresh drinking water and reduces the chances of pipes bursting in the area.

With a number of road closures required so that this vital work could be carried out safely, community engagement was an essential part of the project. An information event was held at Kemnay Village Hall in June, ahead of the works beginning on-site, giving Scottish Water and CWA an early chance to discuss the project with members of the community. Regular newsletters were then issued throughout the project, and the team on site were in regular communication with any local businesses impacted by the works, looking at ways to minimise disruption.

The project also gave CWA an opportunity to visit local primary schools as part of their community engagement efforts, with staff engaging hundreds of local pupils at Alehousewells School and Kemnay Primary School. They delivered educational presentations on the water cycle, water efficiency, and Scottish Water's 'Nature Calls' campaign – all about not flushing the wrong items down the toilet and focussing on the 3Ps – pee, poo and toilet paper.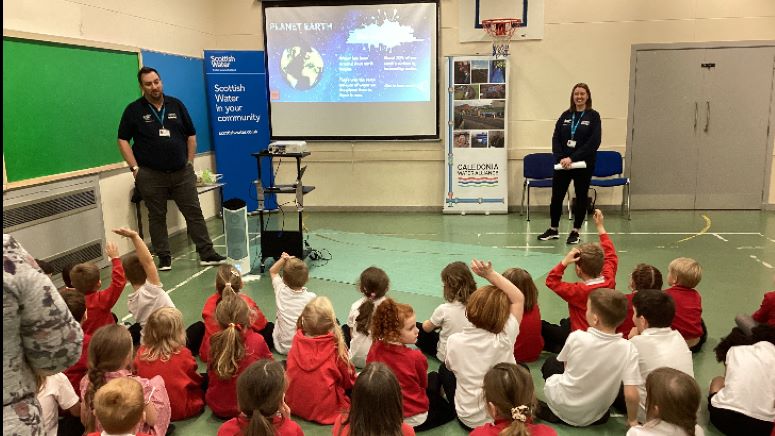 CWA at Alehousewells School
CWA's Clive Duncan and Karen Lynas deliver an educational presentation to Alehousewells Primary School, teaching pupils all about the water cycle
Clive Duncan, CWA Customer Manager said:

"We would like to thank the community for their patience and understanding while we carried out this vital work to upgrade the area's water supply. By carrying out these upgrades, we can ensure Blairdaff and Kemnay customers continue to have a high quality water service and resilient supply for many years to come. It is a testament to the project team that they were able to complete this work ahead of schedule.

"Community engagement was at the forefront of the project and we were delighted to get the chance to speak to over 300 pupils through visits to primary schools in the area, delivering important messages to students about the water cycle and environment. It is so important for us to leave a legacy in each community as part of our projects and by attending these schools we were able to do that. It was great to see pupils so engaged, volunteering to take part in our activities and asking lots of questions!"