Flooding & Scottish Water's Responsibilities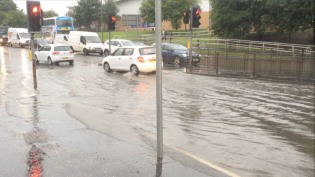 We're working with key partners to reduce the impact of flooding in Scotland.
The responsibilities surrounding flooding are varied. A number of agencies are responsible for dealing with different aspects of flooding in Scotland.
Conventional urban drainage systems are made up of a complex network of sewer pipes, overflows, gullies, burns and culverts (covered watercourses). Ownership and duties are split between various agencies and landowners.
Scottish Water
We have the public drainage duty and are responsible for the drainage of rainwater run-off (surface water) from roofs, and any paved ground surface within the property boundary.
Additionally, we help protect homes from flooding caused by sewers either overflowing or becoming blocked.
Private pipe work or guttering within a property boundary is the responsibility of the homeowner.
Local Authorities
Local Authorities are responsible for the drainage of local roads and public highways; dealing with tidal and river flooding; flooding caused by extreme rainfall. They are also responsible for providing flood defence and maintaining watercourses.
Scottish Government
The Scottish Government is responsible for drainage of motorway and major trunk roads, through its agency Transport Scotland. It is also responsible for making national policy on planning, flood prevention and flood warning. Find out more on their flood management pages.
Scottish Environment Protection Agency (SEPA)
SEPA is responsible for providing flooding advice and flood warnings. These can be found on their website.