Eyemouth sewer upgrade to prevent future flooding finishes
24 June 2021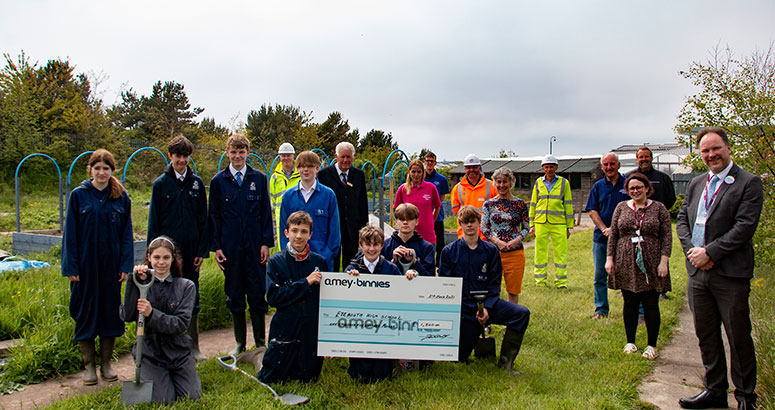 Eyemouth High School welcomes donation
Eyemouth high school kids will benefit from donation
"There are a range of groups who make use of our facilities and it really helps to have this sort of support to buy much needed new items."

Caroline Lathe
Teacher at Eyemouth High School
A major £3.2 million sewer upgrade to reduce the risk of homes in Eyemouth flooding has been completed.
The community has welcomed the "positive impact" the work will have on the popular Borders seaside town. The investment to improve the waste water infrastructure has led to the capacity of the sewer network more than trebling in size to better protect properties and streets from external and internal flooding.
Scottish Water laid 205 metres of new larger sewer pipes along Church Street and fitted a new underground storm water storage tank in the nearby public car park. Church Street has now reopened after being closed for more than a year. The car park will reopen later this summer.
This investment saw the utility:
Lay 205 metres of sewer pipe
Enlarge the sewer network in the area giving it ten times more capacity
Install a new storage tank – 10.5 metres wide and 5.3 metres deep
The new tank will have 240,000 litre storage volume – slightly more than the average swimming pool holds
Install water pumps and control chambers underground and a new kiosk housing apparatus in the car park.
James Anderson, Provost of Eyemouth Community Council, said: "It has been a fantastic £3.2m investment by Scottish Water that will have a major positive impact on the lives of our residents.
"We have been extremely happy with the quality of work overall. The quality of care and attention given to residents of Church Street has been second to none. We are sincerely grateful for the hard work and care given to our community."
Scottish Water thanked the community for their patience while the work took place by donating £1,500 to Eyemouth High School. Members of Eyemouth Community Council suggested the school benefit from extra money to buy items for use in the pupils' allotment.
The money has been used to buy new garden tools, a water butt and a new liner for the school pond - as a thank you to the community and to encourage youngsters to think about water and what they can do to save and protect the precious resource.

Members of the Community Council and residents joined S3 pupils in the High School allotment when Scottish Water and its alliance partner amey-binnies, who carried out the work on the utility's behalf, presented the school with the donation.
Caroline Lathe, teacher in charge of Horticulture at Eyemouth High School, said: "It is fantastic Scottish Water is supporting our community in this way. The students work alongside the community council to help create a beautiful environment around Eyemouth. They produce bedding plants and have helped develop beds along the roadside and planted hundreds of daffodil bulbs which produce a glorious show in the spring.

"There are a range of groups who make use of our facilities and it really helps to have this sort of support to buy much needed new items. I am particularly thrilled at being able to rebuild our school pond since this provides essential fresh water for the wildlife here and it is a valuable resource for our science department."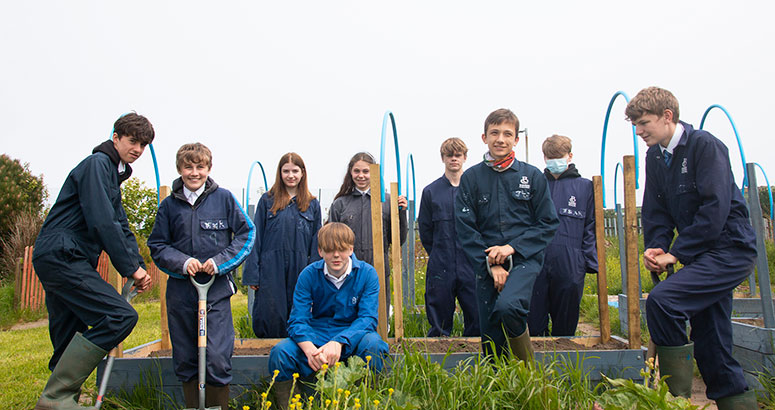 Tools for School
Donated money will go towards gardening tools for the high school and a pond liner
Scottish Water staff plan to visit the town's primary and high schools later this year – when Covid guidance allows - to talk to pupils about the water cycle and the importance of following 3P advice. They will highlight how the utility attends an average 96 blockages every day – more than 80 per cent of which are due to things like wet wipes, sanitary products and cotton wool being put down loos.
Scott Fraser, Regional Communications Manager at Scottish Water, said: "We know how much this investment means to residents in the town who experienced internal flooding at times of heavy rainfall, which can overwhelm the sewer network.
"This work should significantly reduce the risk of future sewer flooding across Eyemouth and protect the local environment, including marine life.
"We thank everyone in Church Street and all others who were impacted while this essential work was carried out for their patience. We also want to highlight how as we have invested in improving the sewer network people can help us take care of it by only flushing the 3Ps – poo, poo and (look) paper and helping protect the marine environment."
The project had to be put on hold for part of last year due to Covid and resumed as soon as Government guidance allowed.
Graham Edwards, Project Manager at amey-binnies, said: "We also want to thank the community for their help and patience throughout this challenging project. The way the local people worked with the site team to allow the works to be done has been exceptional and we are glad we will be leaving the town with improvements in place that will help Eyemouth to thrive.