Nairn Scouts are Prepared to Top Up From the Tap
25 June 2021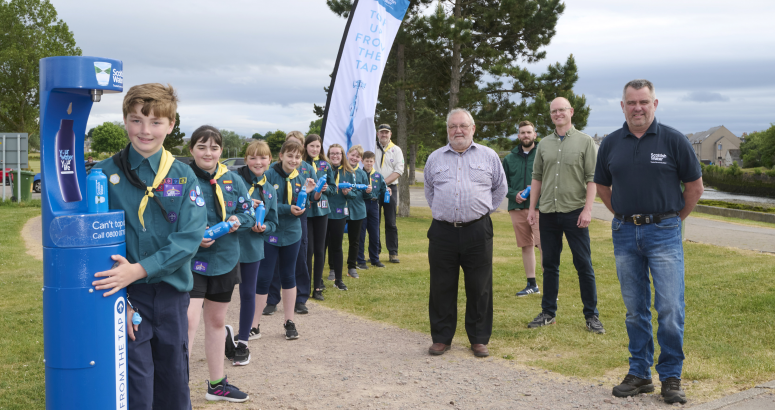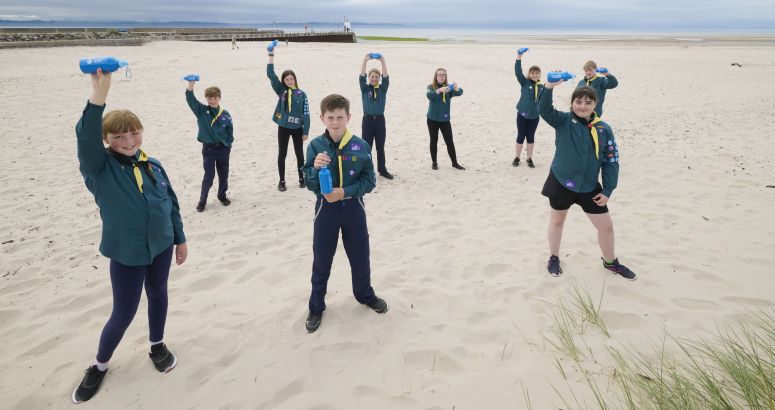 Nairn is Ready to Flow
1st Nairn Scouts helped launch the town's new Top up Tap, close to Nairn East Beach
"When I'm out cycling with my friends, the tap will mean we can stop off, top up and keep on the go"

Jamie MacDonald
1st Nairn Scouts
The 1st Nairn Scouts have helped to get the seaside town's new Scottish Water Top up Tap flowing, as the school summer holidays get underway.
The blue tap is located next to the River Nairn, near The Maggot Car Park, alongside the main footpath leading to the East Beach.
The Scouts were joined by local councillor Tom Heggie and Alex Williamson from the Nairn Connects Business Improvement District, who led the push for a Top up Tap to be installed in the town.
Jamie MacDonald from the Scout group was one of the first to try out the tap. Jamie said: "It's a great idea for people to have free access to fresh, clean water when they're out and about.
"When I'm out cycling with my friends, we normally have refillable water bottles and the tap will mean we can stop off, top up and keep on the go."
Scottish Water's Your Water Your Life campaign aims to encourage everyone to carry a refillable water bottle and enjoy Scotland's world class drinking water on tap.
Fellow Scout Freya Davidson said: "I think it's really important for people to use and throw away less plastic, because we only have one world. We're lucky in Nairn to have really nice beaches, dolphins and other wildlife so it's really important to protect our local environment too. Using a refillable water bottle is an easy way to help."
Scottish Water's Water Networks Team Leader Stevie Webster helped identify the tap's location and supported its installation. Stevie said: "It's great to see the enthusiasm of the Scouts for enjoying our outdoors, but also taking care of our environment for the future.
"Nairn is famously one of the driest places in Scotland, but the Top up Tap will make it easier for local residents and visitors to stay hydrated all year round. Carrying a refillable water bottle and topping up from the tap is good for you, it's good for your pocket and it's good for the planet too."
Councillor Tom Heggie added: "Older folk will remember the old style water fountains that there used to be around Nairn, but that couldn't meet modern safety standards. This is a superb update that will allow youngsters and everyone to fill their water bottles on the way to the beach and have the benefit of hydration.
"Reducing litter and plastic waste is hugely important to our community. We all have to take personal responsibility and play our part."
The Top up Taps all include devices which record the amount of water they give out at each location.
Since the first Top up Tap was launched, more than 170,000 litres of water have been consumed from Scottish Water's expanding network of the refill points across the country - equivalent to saving approximately 400,000 plastic bottles.
The publicly-owned water company will soon have 50 of the taps in the ground at sites including harbours, beaches, national parks, botanical gardens and other top tourist attractions.
More information about the Your Water Your Life campaign can be found at
www.YourWaterYourLife.co.uk
.