Marathon Man Ross Runs City Reservoirs to Bring Water to Malawi Communities
08 July 2021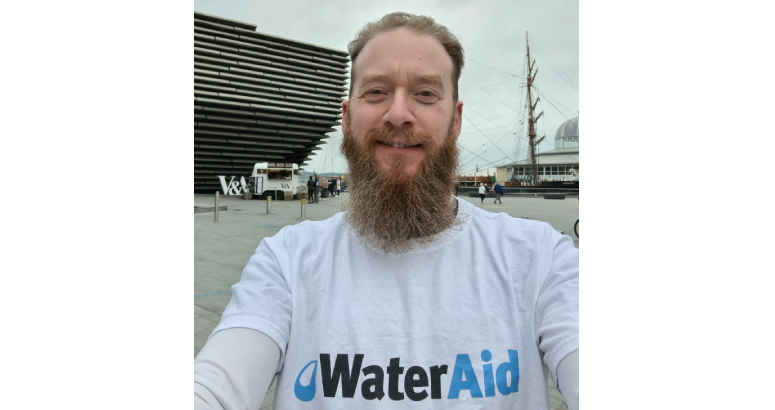 Raising funds for WaterAid
Pictured: Ross Glenn
"Reading about WaterAid 's vital work around the world, to bring these basic essentials to some of the most vulnerable communities across the world, it cannot help but inspire you."

Ross Glenn
Network Analyst, Scottish Water
A Scottish Water first-time marathon runner is getting race-fit by racking up training miles between every one of his home-city's service reservoirs.
Ross Glenn will take part in the London Marathon in October, in just 12 weeks' time, running for WaterAid to raise funds to bring clean water, decent toilets, and good hygiene to communities in Malawi.
Dundonian Ross - a network analyst who helps identify, manage, and reduce leakage from the public water supply system – has devised a training run more than 30 km in length using the city's reservoir network as milestones to guide him.
Ross said: "As the training progresses, I need to do gradually longer runs and I thought this could be a nice one to do before easing off just before race week.
"I looked at the service reservoirs in Dundee – missing out a few really rural locations – and discovered it would be between 21 and 24 miles depending on which route I take. It would take me from home via via Lawton SR – Mezieshill Tower – Gowriehill SR – Gourdie SR – Gallowhill SR – Clatto SR- Pourie SR – Balmossie SR and back to Stobsmuir SR.
"It is a fantastic way to link my work with my training to run one of the world's best-known races for a cause which will bring people clean water. One issue I've come across is that service reservoirs tend to rely on gravity to bring the water down into the network and they tend to be at the top of a hill."
Service reservoirs act as giant storage tanks for treated water which can be distributed into the system to reach customers' taps.
Ross's work sees him cover a large swathe of North-East Scotland including Aberdeen, Stonehaven, Peterburgh and Fraserburgh.
He said: "I only took up running in 2016 to try and help lose weight and improve my general fitness. I signed up for the Great Scottish 10Km in Glasgow to make sure I kept going and realised it was quite enjoyable to run in big events. I have done a couple more including half marathon distance, but nothing of this level.
"As London is probably the world's most iconic marathon, places are hard to come by and charity places make up a large part of the entrants. WaterAid kindly offered me one of their places.
From being involved in the water industry, it is easy to see how lucky we are in this country to have a fantastic network to supply clean water and the removal and treatment of our waste water. Most people do not even think about how this happens or if they do it is usually when they have an issue.
Reading about WaterAid's vital work around the world, to bring these basic essentials to some of the most vulnerable communities across the world, it cannot help but inspire you."
Ross is hoping to complete the Oct 3 race in London in under five hours and added: "I would really like to be able to enjoy the day. Speaking to those who have done it before, the noise and atmosphere is amazing."
WaterAid is marking its 40th anniversary this year and Scottish Water employees raise funds year-round to support projects in Malawi, to reach villages, schools and hospitals including maternity units with clean water. The projects also support the provision of decent toilets and good hygiene practices to ensure long-term health and prevent the spread of disease.
Elizabeth McKernan, WaterAid's Partnership Manager, Scotland and Northern Ireland, said: "Over the past 40 years, WaterAid has been making change happen on a global scale, and we simply could not do it alone. Since our foundation, our partners in Scotland and across the water sector have been providing vital funding and valuable expertise for our work around the world, and they remain at the heart of what we do.
"Now more than ever, we need to continue our life-changing work and do everything we can to make clean water, decent toilets and good hygiene a normal part of everyday life for everyone, everywhere. This is the year we must make change. In 2021, we're tackling the double threat of COVID-19 and climate change to make sure that millions more around the world can rely on clean water, today and every day.
"We would like to thank Ross for taking on his first ever marathon and for raising vital funds to support our work in Malawi. With support from the Scottish Government's International Development Fund and amazing fundraisers like Ross we will be able to reach even more people with clean water and decent sanitation through our Deliver Life Malawi project."
To support Ross and WaterAid please visit:
www.justgiving.com/fundraising/run-potato-run