Rico Gives Thumbs Up to Lossiemouth's New Top Up Tap
20 July 2021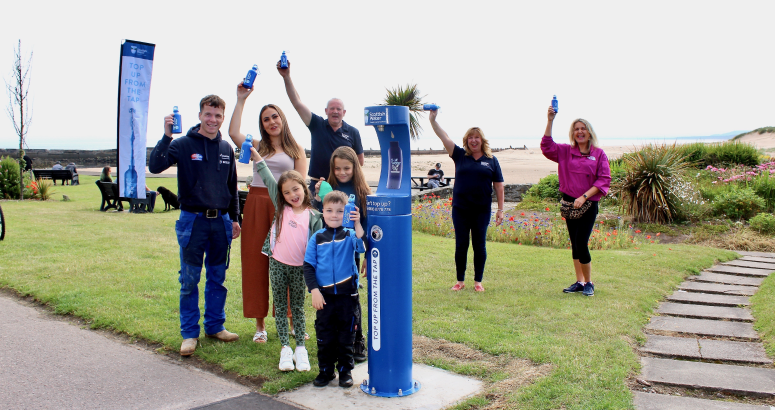 Cheers to Lossie's new water refill tap
Six year old Rico Thompson helped launch our newest addition to the Top Up Tap network.
Visitors to Lossiemouth's beautiful Esplanade can now top up with fresh water on the go at a new free refill tap on the town's seafront.

Scottish Water has installed the new tap as a part of a drive encouraging people to carry reusable bottles to stay hydrated, protect the environment by reducing waste and save money.

And while we all know that drinking more water can benefit our health, for 6-year-old Rico Thompson who helped set Lossiemouth's new Top up Tap flowing, it is even more vital to ensure he is well hydrated throughout the day.

After being born with kidney disease, Rico battled a series of infections, and when he was just a few years old it became clear he would need a transplant. Luckily mum Katie was able to donate one of her kidneys and she says her son has gone from strength to strength.

"He is doing so well now, you would never know that he needed a transplant – he's just a wee character," she said.

"However, it is absolutely essential that Rico drinks a certain amount of water every day to make sure his body is flushed out. He has certain target amounts that he has to drink, and we usually space it out at regular points in the day.

"Tap water is the best thing for him, so we always make sure we take our own in a refillable bottle when we leave the house or ask to get it filled up if we're out and about.

"Having the Top Up Tap here will be so handy for us and lots of other people in Lossiemouth. It is great to know that there is somewhere nearby that we can go and easily fill up Rico's water bottle if we need to."

The blue tap is Moray's second, after the first was unveiled in Elgin at the end of 2019.

Ewan Shand from Scottish Water's local team played a crucial role in supporting the connection of the new tap. Ewan said: "It is great to hear that the tap will be useful for Rico and a reminder of the importance of staying well hydrated for all of us. We're urging people to remember to take their reusable water bottles when they leave the house, just like Rico, so they can easily top up at the tap.

"Drinking water from a refillable bottle is good for your health, good for the planet by helping reduce the volume of single-use plastic - and it's good for your pocket too."

Scottish Water Customer Service Review Manager Elaine Macarthur, who lives locally, said: "It's fantastic to have this new tap in such a stunning location here in Lossiemouth – it is always a busy spot and hopefully everyone will be able to make the most of the free refill point.

"You can enjoy the view along the East Beach while you're topping up and really see how using a refillable bottle us the right choice for our environment, both locally and globally."

The Top up Taps all have tracking devices which record the amount of water they give out at each location. Since the first tap was launched, more than 187,000 litres of water have been consumed from Scottish Water's expanding network of refill points across the country, the equivalent of around 500,000 330ml plastic water bottles.

There are now more than 50 of the taps in the ground at sites including at harbours, beaches, national parks, botanical gardens and other top tourist attractions.

More information about our Your Water Your Life campaign is available at www.yourwateryourlife.co.uk

Thirsty work
Visitors to Lossiemouth's beautiful east beach were keen to test out the new top up tap.