New £800,000 Solar Scheme for Aberdeen in Net Zero Drive
21 October 2021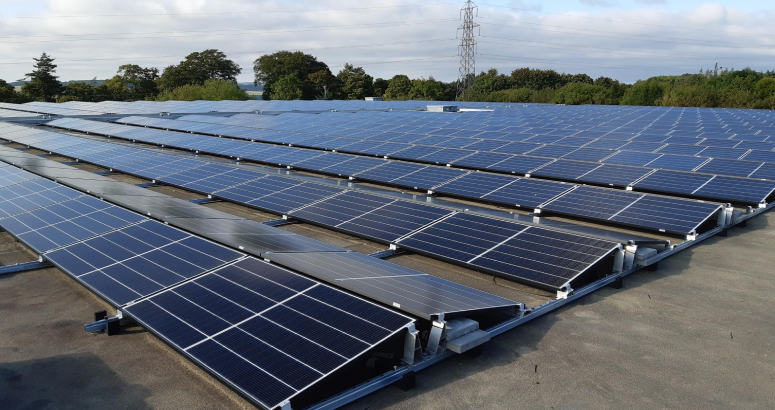 Investing in renewables
Over 1700 solar panels have been installed at the site in Cults.
An ambitious solar energy scheme which will help power two of the main service reservoirs supplying water to Aberdeen has been completed.
The scheme, located in Cults, will support Scottish Water's 2040 net zero emissions target and has seen over 1,700 solar photovoltaic (PV) panels with a generating capacity of 0.52 GWh of energy each year installed at the site.
The carbon-reducing technology – which works by converting light into electricity using semi conducting materials - will offset one sixth of the electricity needed to operate the facility.
Scottish Water Horizons, the public utility's commercial subsidiary, invested £800,000 to boost the green credentials of one of Scottish Water's largest energy consuming assets, which pumps water to homes across Aberdeen City.
The scheme will also help cut the carbon footprint of the site by around 120 tonnes of CO2 each year – the equivalent of offsetting 435,000 miles from the average passenger car.
The project brings the number of solar panels installed on Scottish Water sites to date to over 40,000, generating a combined total of 10MW of energy, as the water company strives to become a zero-carbon user of electricity.
An electric vehicle (EV) charging point has also been included as part of the green scheme to support the transition of Scottish Water's fleet of vans away from fossil fuels to clean energy.
John Sammon, Low Carbon Team Lead at Scottish Water Horizons, said:
"We are delighted to hit this significant milestone with the completion of the Cults solar project as we continue our journey towards net zero by 2040. We are continuously looking at the ways we can reduce our carbon output across all our activities and renewable energy is a significant part of that.
"This site is one of Scottish Water's biggest energy consuming assets and we are proud that we can now meet some of that need with the energy generated by the solar panels. In addition, we will export 10 per cent of the energy generated to the national grid, to help power homes and businesses in the area."
He added:
"As we continue to transition our fleet of vans and tankers away from fossil fuels towards clean electricity, it is vital that we build in the infrastructure to support that move which is why we are including electric vehicle charging points as part of our solar power projects, where viable, going forward."
Cabinet Secretary for Net Zero, Energy and Transport Michael Matheson said:
"It is encouraging to see Scottish Water leading by example by incorporating renewable energy into yet more of its sites across the country, to help to power Scotland's essential services.
"We have committed to ending our contribution to climate change within a generation and we are making great progress – Scotland is already more than half way to net zero. To reach that target we need to make a just transition to using much greater amounts of renewable energy, in a way that enables the creation of green jobs
The Cults site joins a portfolio of almost 80 water and waste water treatment works which are now either self-sufficient or partly sufficient in generating their own power requirements.
Renewable energy experts Absolute Solar and Wind delivered the project whilst adhering to Covid guidance.
Scottish Water has committed to reach net zero carbon emissions by 2040, with an interim target to host or self-generate three times its annual electricity consumption by 2030.