Water Back in Supply Following Storm Arwen
03 December 2021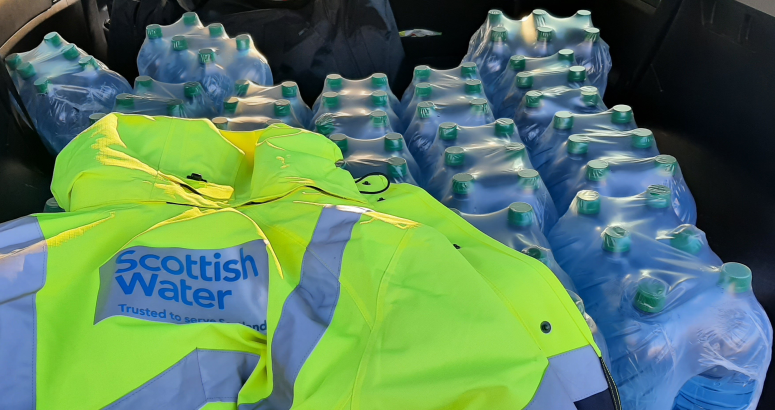 Welfare support
Scottish Water teams are continuing to support the multi-agency response effort in the most affected communities
"I would like to thank customers and communities for their patience and support while our teams were working hard to restore service as quickly as possible."

Kes Juskowiak
Water Operations General Manager, Scottish Water
Following the restoration of water supplies to communities impacted by Storm Arwen, Scottish Water is returning to normal operation across the country.

Where a small number of sites remain on generator power, arrangements are in place to ensure this can be sustained until normal electricity supply is restored.

Scottish Water remains engaged with its emergency response partners and will continue to support their ongoing work.

Kes Juskowiak, Water Operations General Manager for Scottish Water, said: "I would like to thank customers and communities for their patience and support while our teams were working hard to restore service as quickly as possible. Storm Arwen was one of the most significant weather events we have seen in decades in the impact it had on our infrastructure and the essential service we provide to customers.

"With all affected water networks now recovered and a stable electricity supply in place at all of our sites, our frontline teams are returning to normal operation. We will continue to respond as quickly as possible to any new issues that arise on a 24/7 basis.

"We have been enormously grateful for all the support and assistance we have had from emergency response partners and communities while we were focused on restoring water supplies. We will continue to offer as much support as we can while some residents remain in need of assistance."

Since the peak of the storm on Friday night, engineers have restored supplies to over 18,000 homes and businesses that were initially without water across Aberdeenshire, Moray, Angus, Perthshire, Stirlingshire, the Borders and Dumfries & Galloway.

Ahead of the storm hitting, the power supply for 43 Water Treatment works (WTW) was supplemented with generators on a precautionary basis. Generators were used at a further 15 sites as the full impact of the storm on the electricity network became clear, with supply for around 1.5 million customers being maintained in this way at the peak of disruption.

A fleet of 22 road tankers operated across the affected regions to sustain water supplies wherever possible and support faster recovery of affected water networks.

Bottled water was also distributed to the most affected customers and communities, with direct delivery to care homes and priority service customers, as well as community collection points and SSEN welfare units. The customer support operation so far has involved:

- Distribution of 150 pallets of water, equivalent to 138,000 litres of water, to 25 community drop offs and 26 welfare hubs
- Over 1,600 door-to-door deliveries
- Over 1,000 calls to customers to check on their welfare and understand their needs

Scottish Water continues to advise customers that they may experience low/intermittent pressure or discoloured water following the return of supply. Anyone who continues to be without water is encouraged to call 0800 077 8778 so that local teams can investigate and assist.

During the restoration of supplies, Scottish Water has offered additional support to customers who are on its Priority Services Register, for example due to a disability or a medical condition which means they may need extra support if their water supply is disrupted. Further information about the Priority Service Register and how to sign up is available via https://psrscotland.com.