Arwen Stories: Caring for our Customers When it Matters Most
21 December 2021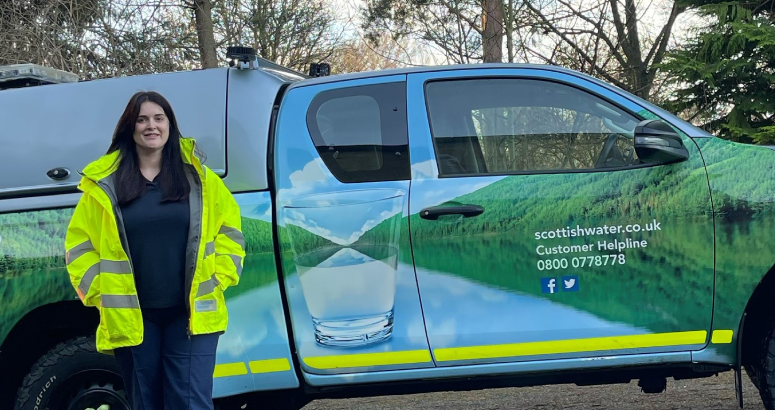 Helping whatever the weather
Joanne Smith was one of many staff making a huge effort to keep customers in supply during Storm Arwen.
Many teams across Scottish Water are no strangers to working in difficult conditions but as Storm Arwen blew across the country leaving a trail of destruction in its wake, the resulting reverberations were felt across the whole organisation.

From being physically unable to access sites to losing power in some regions, the following days saw a huge effort on the part of teams up and down Scotland to keep our water and waste water services running and protect customers from the worst of the storm's impact.

At one point, almost 20,000 households were without water, with teams working hard to restore supplies as quickly as possible in challenging conditions.

Joanne Smith, a treatment operator based at Turriff Water Treatment Works, has shared her story:

"When the storm came in, we lost our power, and this had a huge impact on the team. We lost the visuals on our reservoirs, and this meant we couldn't be certain about how low the water levels were getting.

The team went back to basics, given their loss of technological visual. Joanne said: "We actually started monitoring the water levels based on the number of steps in the tank. This at least helped us try to ensure levels stayed as they were and didn't get lower, using the number of steps from the water surface as an indicator."

"We didn't have time to be tired or grumpy," she said. "We all pulled together and helped each other through. Everyone did their bit to help. Our team leader Darren Still was a great support and went from site to site to see what he could do."

Our local operational teams weren't only working extremely hard to fulfil their core roles. Many employees put in extra hours supporting communities via delivery of bottled water to those who were without supply and in need of assistance, as part of a wider welfare response across communities and partner agencies.

Joanne responded to a call from a concerned neighbour who was worried about the welfare of a customer in her 80s who was living alone. She said:

"I brought her water and we chatted for 45 minutes on her doorstep. The customer had lost power and water for a period and, although she was now back on, she'd been through a lot. As it has been snowing, the lady had resorted to melting snow to flush her toilet and boiling it to drink.

"She was so grateful for our visit - her family all live far away. She told me she'd been really worried, feeling really frail, cold and tired – and said that our visit really helped her make it through.

"I felt so proud to work for Scottish Water and so happy that we could make such a huge difference to our customers."

Scottish Water is urging customers who might need additional support during an incident like Storm Arwen to sign up for our Priority Services Register which is free and confidential.

You can find further information and register by going to https://psrscotland.com or by calling our customer helpline on 0800 077 8778.