Local Heroes save whelk picker in Pennan
24 January 2022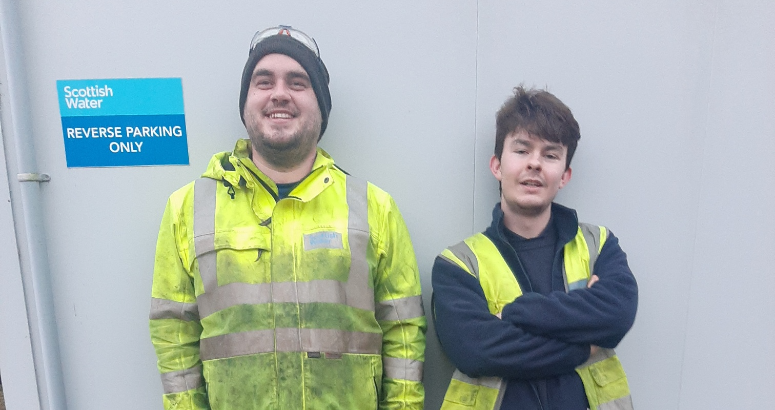 Local Heroes
Matthew and Damien raised the alarm when they noticed a whelk picker was in danger of being caught by the tide
Two Scottish Water employees have proved themselves to be Local Heroes after raising the alarm for a whelk picker in danger of getting caught by the tide at Pennan.
Matthew Gibb and Damien Galloway were working at the Waste Water Treatment Works on the coast just before Christmas when they noticed a member of the public walking along the beach at the foot of the rockface nearby. A little while later as the tide was coming in, they realised the man hadn't returned and was still out of sight, so the pair phoned the coastguard. The gentleman was picked up three quarters of an hour later, unaware of the danger he had been in from the rising waters.
Damien Galloway, who is a modern apprentice in the local Waste Water Treatment team, said they couldn't simply ignore the fact the man had disappeared: "We knew the tide was coming in and we couldn't see him as far as we could walk. The coastguard said if he wasn't rescued he would have ended up in the water. He was picking whelks so maybe he wasn't paying full attention to the tide - it's so easy to get caught out at that spot if you're not careful. The coastguard did a brilliant job finding him and making sure he was safe. I'm glad we were able to help, it's what anyone would have done I think."
HM Coastguard advises people to always check the weather and tidal conditions before setting out along a beach and to consider the risk of being cut off by the water. In an emergency on the coast, members of the public are advised to call 999 and ask for the Coastguard.
Lewis Deas, Scottish Water's Waste Water Operations Manager for the region said: "Damien and Matthew showed great awareness of the situation. Sometimes you need to pay attention not just to the job in front of you, but the community around you too. It's a happy outcome to what could have been a tragic story and I'm really proud of them."