Aviemore Primary Pupils Get Creative to Launch New Top Up Tap
08 March 2022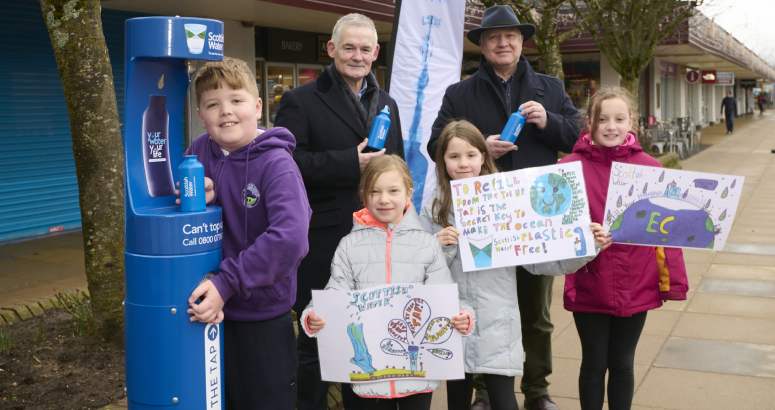 Ready to refill
Pupils from Aviemore Primary joined Scottish Water's Chief Operating Officer Peter Farrer and Councillor Bill Lobban to launch the new tap.
Creativity was overflowing at Aviemore Primary recently as pupils took part in a Scottish Water poster competition to help launch the village's new free water refill point.

The new Top Up Tap, which is located on Grampian Road is part of a drive to encourage people to carry reusable water bottles and stay hydrated on the go; help protect the planet; and save money. The site was identified following a request to the publicly owned water company from the local Community Council.

Pupils in P4, P5 and P6 at the primary school were set the challenge of designing eye catching posters to promote the refill tap and produced a brilliant range of styles. Nine-year-old Solveig Dennis was chosen as the overall winner, with Hanna Drozd (9) and Emelia Owen (10) in second and third place respectively.

The winning pupils each received a book token, while the classes who took part were given refillable water bottles for each of the pupils.

Chief Operating Officer at Scottish Water, Peter Farrer, attended the launch which took place on Friday, March 4. Peter said:

"We are delighted to be launching this new top up tap in Aviemore – the first in the Cairngorms National Park. Our taps are all about making it even easier for people to stay hydrated while on the go – and I know this site at the heart of the village will be well used by local residents and visitors alike, whether shopping or heading off to enjoy the best of Scotland's outdoors.

"It is brilliant to have the local pupils involved and to see the imagination and creativity they brought to the competition. The beautiful designs that Solveig, Hanna and Emelia have created really capture their commitment to taking care of the environment that we all rely on and enjoy."

Aviemore Primary School Headteacher, Emma MacCallum said:

"Our pupils were delighted to be asked to take part in the poster competition for the new Top Up Tap. Our children have learned a lot about sustainable developments and recently had embarked on projects about the local community so it linked in very well with our learning.

"We know we have some talented artists in these classes so it was great to put their skills to use in a community-based project. Our winner and the runners-up had a great time attending the launch of the tap and were honoured to be invited."

Joe Kirby of Aviemore and Vicinity Community Council originally approached Scottish Water to ask for a Top up Tap in the village via twitter. Joe's son Alfie, who attends Aviemore Primary, represented him at the launch and helped to get the tap flowing. Joe said:

"Who would have thought that twitter would have delivered this for Aviemore?

"It's great that Scottish Water chose to get the Aviemore Primary kids out to take part in the official opening of the top up tap. It's their generation that will lead and see the end of single use plastics. My own son Alfie made us come down at the weekend to top up, so hopefully more people see the importance of it and make use of the facility that benefits Aviemore."

More than 60 taps have now been installed at sites across Scotland including harbours, beaches, national parks, botanical gardens and other top tourist attractions.

More information about Scottish Water's Your Water Your Life campaign can be found at www.yourwateryourlife.co.uk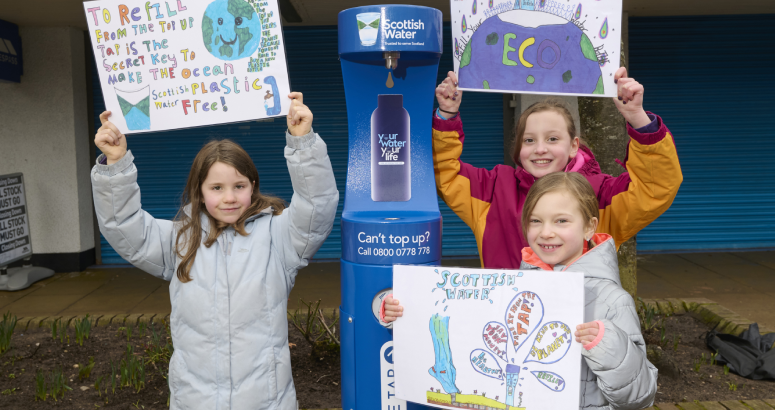 Creative stars
Aviemore Primary pupils Solveig Dennis (9), Emeila Owen (10) and Hanna Drozd (9) show off their winning poster designs.