Back to the School which Inspired 38-year Career for Water Boss
14 March 2022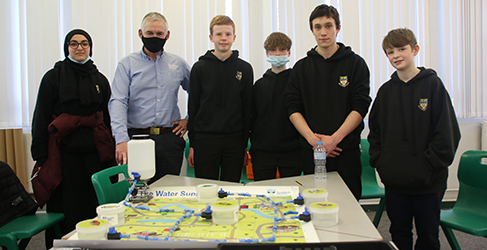 Scottish Water's Peter Farrer with one of the teams from Currie High School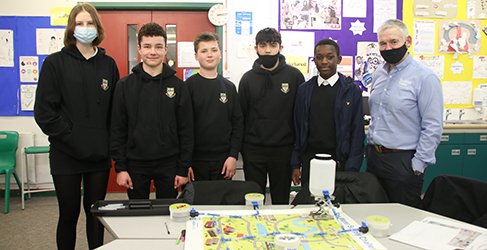 Water Supply Challenge Team show off their finished water network
"It was great to come back to my old school and see what could be a potential new generation of engineers engaged with such a hands-on activity. It brought back a lot of good memories."

Peter Farrer
Chief Operating Officer, Scottish Water
Scottish Water's Chief Operating Officer visited his former high school in the Capital last week to educate pupils about the way the country's water network operates.
Peter Farrer spent an afternoon with S3 pupils at Currie High School highlighting the hard work that goes into creating, testing, building and maintaining a drinking water network fit for a city and beyond.
Mr Farrer credits the Edinburgh school with helping him take his first steps towards his career in the water industry – where he has worked for more than three decades. He told how several of his science and technical teachers sparked his interest in learning to become a civil engineer.
The boss was joined by other Scottish Water staff at the school where pupils took part in a Water Supply Challenge, run as part of the school's World of Work Week.
The S3s had to design, plan and build and test a water network. The teams were provided a kit which includes a map and the materials such as pipes, connectors and valves with which they need to build their network and supply their customers, all against a tight time limit.
It is designed to test skills such as time management, budgeting and team work in order to complete the challenge successfully.
The Scottish Water team gave advice and revealed how they faced similar challenges in their own roles, supplying more than 2.9 million households and businesses.
Mr Farrer, 59, who lives in the Capital, said: "It was great to come back to my old school and see what could be a potential new generation of engineers engaged with such a hands-on activity. It brought back a lot of good memories.
"I'm really proud of how Scottish Water is helping promote STEM (Science, Technology, Engineering and Maths) events for young people who are maybe just starting to think about their future careers. I know how much my teachers at this very school shaped my thinking and helped start my journey into the water sector.
"This specific challenge is a great way for the youngsters to develop skills they will need later in their careers and they all thoroughly enjoyed taking part, with many surprised just how complex the work is. It was a great way to provide an insight into some of the challenges Scottish Water faces to provide our vital service to our customers".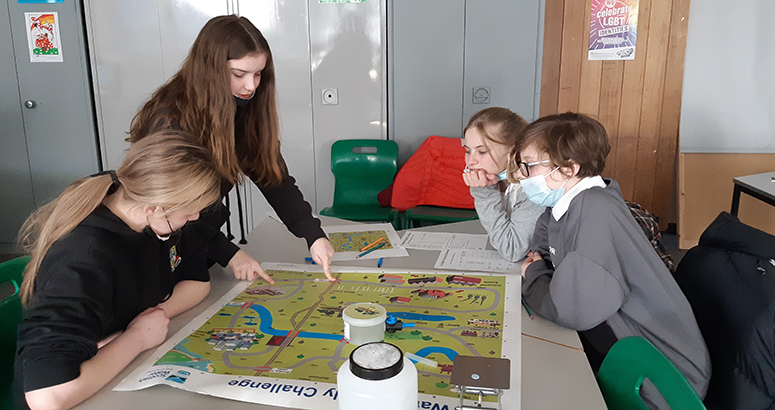 Water Supply Challenge
A team at Currie High School work on how they are going to design their water network
Following a successful pilot of the water challenge activity at the school at an event held in October 2019 the school was keen to run the events again after a two-year hiatus due to the pandemic.
John Schmidt, Acting Depute Head teacher at Currie was delighted to welcome back Scottish Water. He said:
"We are delighted to partner with Scottish Water as part of the Developing the Young Workforce initiative. Our students have thoroughly enjoyed the challenge to create the water supply for a town. The students enjoyed working in a team and using a range of skills to be solution-focused, to a brief. Scottish Water have engaged a range of staff that have been able to share their experiences to enhance the experience."
Pupil Carl Chipangura, who is studying Engineering at the school, said: "It was great learning some new problem-solving skills and I got to flex my brain muscles. I also enjoyed learning how Scottish Water works and how we get water."
Scottish Water plans to develop its partnership with Currie High School, with plans to regularly run the Water Supply Challenge.