Top Up Tap Makes Everyone's Day in Callander
15 March 2022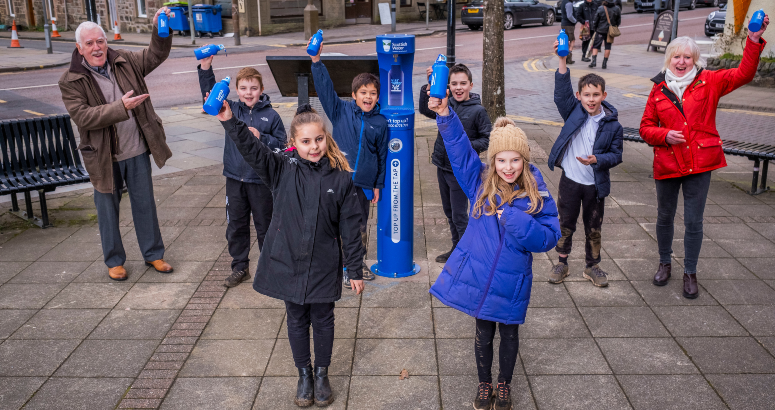 Top Up Tap Champs
ECO-Committee members from Callander Primary School joined representatives from Callander Against Plastic and Callander Community Council for the tap's official launch. 
Callander schoolkids are Scottish Water's latest Top Up Tap Champions as they welcome the latest addition to town.
The Primary 5 youngsters couldn't wait to help officially launch the iconic blue landmark in the town's Ancaster Square.
The tap, championed by local action group Callander Against Plastic and supported by Callander Community Council, is also set to be a big hit with visitors to the hugely popular tourist beauty spot.
As well as keeping everyone hydrated on the go, the tap will help reduce single-use plastic waste in the community.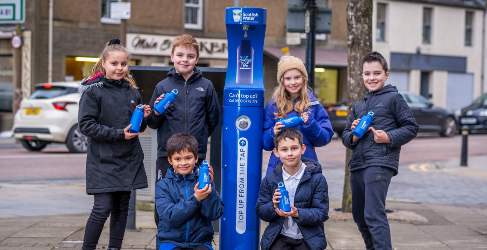 WATCH: Our short film of the launch featuring Georgie, Tom, Stella and Euan (back L-R) & Lee and Findley (front L-R).
PICTURED: David Moore from Callander Community Council and Elaine Watters from Callander Against Plastic.
"Now, we can look to build on this first step and eventually turn Callander into the 'plastic-free outdoor capital' of the park. It shows we can all make a difference if we try."

Paul Fraser
Callander Against Plastic
Clued-Up Children
As keen members of Callander Primary's ECO-Committee, the children were clued-up on the benefits it brings.

Stella reckons she'll be topping up to hydrate on her way home from school.

She said: "It's really good because you don't have to go and buy lots of plastic bottles; plastic bottles are really bad for the environment, and you also waste some of your money."

Classmate Lee added: "You don't need to keep buying plastic bottles. Sometimes, when you put them in the bin, they might fall out and they might litter.

"And you're also spending less money as you're filling up your water bottle for free."

Paul Fraser, local campaigner with Callander Against Plastic, is delighted their community bid for a Top Up Tap has been successful.

He said: "I'm absolutely thrilled that we managed to achieve our objective of getting a Top Up Tap installed in Callander.

As Callander is the 'outdoor capital' of the Loch Lomond and Trossachs National Park, it is imperative that we embrace innovative ideas such as this in order to safeguard our local environments and to allow everyone to enjoy the fantastic outdoor opportunities that Callander and the park has to offer.

Now, we can look to build on this first step and eventually turn Callander into the 'plastic-free outdoor capital' of the park. It shows we can all make a difference if we try."


Taps in Loch Lomond & the Trossachs National Park
Callander now joins Scottish Water's growing network of taps, making a total of five in the Loch Lomond & the Trossachs National Park – including Balloch, Aberfoyle, Balmaha and Rowardennan.

The Top Up Taps are part of Scottish Water's Your Water Your Life campaign to highlight the vital part water plays in everyday life.

Georgina Reid, Scottish Water's corporate affairs manager for the west region, said: "We've been blown away by the enthusiasm of the local community, and their support for our Your Water Your Life campaign and all it represents.

"It's great to see such fantastic community spirit and enthusiasm, and we were delighted we could deliver one of our famous taps to the town.

"We hope that everyone enjoys topping up from the tap in Callander – just remember your refillable water bottle!"


Your Water Your Life
With 67 already available in communities the length and breadth of Scotland, Scottish Water will continue to expand its Top Up Tap network over the next two years to help drive down single-use plastic waste by encouraging people to carry a refillable water bottle, top up from the tap and stay hydrated on the go.

More information about the Your Water Your Life campaign can be found via the link below: