West Linton local retires after over 40 years of Service
30 March 2022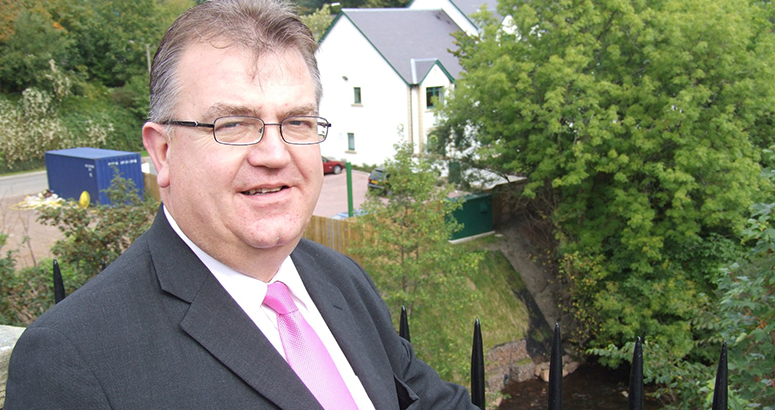 Bill Elliot
Bill retires after 42 years of dedicated service
"It is people like Bill who have helped improve Scottish Water's performance and reputation, while also making it a great place to work. He will be sorely missed."

Peter Farrer
Chief Operating Officer, SW
West Linton local Bill Elliot is celebrating his retirement after 42 years of service at Scottish Water – where he followed in his father's footsteps.
Bill, 65, joined the utility on 1 April 1980, aged 23 and has worked in various roles at Lothian Regional Council, East of Scotland Water Authority and Scottish Water.
Bill's father worked for the water department at Lothian Regional Council and brought his family up in the reservoir keeper's cottage at Glencourse, sparking his interest in the utility.
Bill said: "My dad really loved his job and as soon as I saw a one advertised, I jumped at the chance to go for it. My first role involved working alongside him, carrying out daily operational tasks and inspections in the local area. Thankfully, we got on well!"
Prior to 1985, the regional council did not have a customer call centre, this meant that local operatives would have their phone numbers and addresses in the phone book for customers to call if they had an issue.
Bill said: "I would regularly have people phoning me or knocking on my door asking for help with their water supply. I really enjoyed being trusted in the community, but it was never ending. You never knew when you'd next have someone get in touch, night or day."
Bill spent the next 27 years of his career working in various water treatment and health and safety roles, helping improve standards across the south of Scotland.
Keen to return to a more customer facing role, in 2007 he made the switch from the operational side of the business to Corporate Affairs.
His first project was the building of the £130 million Glencourse Water Treatment Works which now provides water to the majority of Edinburgh.
Here he helped come up with some different ways of engaging the local community.
"After a particularly quiet drop-in session at a village hall, we came up with the idea to host drop-in sessions at local watering holes where we would have a captive audience.
By spending a few evenings speaking to locals in their local pub, we were able have more open discussions and from there developed links in with community groups.
It sounds so simple, but the success of these sessions gave me the confidence that I could do the role and led to it being one of the projects I am most proud of."
Scottish Water has gone through several major changes during Bill's career.
"There are two key things that have changed since I started. Firstly, the technology has come on immensely, from not using a computer until 2004, to now where so many of our interactions are done on mobiles over social media, it really is a different world.
Secondly, the business has become far more customer focused and caring over my career. We have learned to put ourselves in our customers shoes and are far more responsive to their needs – listening and engaging with customers to get the best results."
Peter Farrer, Chief Operating Officer at Scottish Water, said: "I joined Scottish Water a couple of years after Bill and have worked directly with him at different points throughout my career.
"It is people like Bill who have helped improve Scottish Water's performance and reputation, while also making it a great place to work. He will be sorely missed. The wealth of experience he has gained is second to none."
Reflecting on his career father-of-two Bill said: "Some of my fondest and proudest memories of my life have been at work. My son and daughter both worked for Scottish Water at one point and excelled in their roles. Hearing about their hard work and talents from colleagues, made for some real proud dad moments.
"Also, working alongside my own dad, I was able to share in his passion and show him my skills. I feel so lucky to have those memories now he is in his 90's. I guess you could say my family are very much a Scottish Water family.
Bill may be retiring from Scottish Water, but he will be keeping busy and getting more involved in the West Linton and wider Borders community while also indulging his passion for music as a mobile DJ